Wednesday, October 5, 2011

Largest straw maze: Garden Cents in Rupert sets world record (Video)

RUPERT, ID, USA -- The 96,847-square foot Garden Cents Maze sponsored by the Garden Cents Nursery sets the new world record for the Largest straw maze, according to World Record Academy (www.worldrecordacademy.com).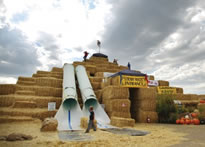 Photo: The World's Largest Straw Maze. (enlarge photo)

The Guinness world record for the largest temporary corn maze measured 163,853.83 m² (40.489 acres) when opened to the public in September 2007 at Coolpatch Pumpkins in Dixon, California, USA.

Guinness World Records also recognized the world record for the largest permanent hedge maze: the Pineapple Garden Maze at the Dole Plantation in Wahiawa, Hawaii, USA, which has a total area of 12,745.79 m² (3.15 acres) and total path length of 3.962 km (2.46 miles).

The 96,847-square foot Garden Cents Maze easily eclipsed the Guinness World Records minimum requirement of 12,916.7 square feet.

Brian Jentzsch, builder and designer of the maze says, " It took about 3 weeks to build and probably 2 weeks to design."

"This maze is a year-long process for us," Jentszch said. "We have 3-D mazes this year and mazes that go up and down."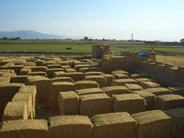 (enlarge photo)

The largest straw maze in the world, which has nearly two miles of walking paths on two acres, is known for being scary but there are sections that are not, Jentszch said.
It contains a 30-foot pyramid and two hidden rooms. A prize awaits those who find either room.

The World's Largest Straw Maze is open until Halloween from Tuesday to Thursday, noon to 6 and Fridays and Saturdays noon till 10. Starting October 14th, one portion will feature a haunted maze.


Related world records:
Largest Corn Maze: Benson Farms

Largest Ice Maze: Buffalo

Longest bridge over water: China's Qingdao Haiwan Bridge

Tallest Jesus statue: Christ the King Monument

Largest indoor theme park: Ferrari World

Largest Aquarium: The Georgia Aquarium

Largest Portable Hammock: Hansy Better Barraza

Largest Clock: The Royal Mecca Clock

Largest mechanical clock: Ganzhou clock

Furthest Leaning Man-made Tower: The Capital Gate

Largest Ice Maze: Buffalo

Largest Igloo: 'Bigloo'

Largest Urn: Richard Cohen Landscape & Construction Inc.

Largest Solar Energy Building: Chinese "Sun Dial"

Largest Performing Fountain: Dubai Fountain

Tallest building: Burj Dubai

Largest floating restaurant: Rustar dhow

Largest cinema screen: Pinewood Studios

Largest Floating Christmas Tree: Rio de Janeiro

Tallest artificial Christmas tree: Mexico City

Largest monument to the Turkey: Frazee City

Largest monument to the onion: Pericei

Largest Free-Flying American Flag: George Washington Bridge

Largest department store - Shinsegae Centum City

Largest Painted Easter Egg - Suceava

Largest Rocking Chair - Dan and Carolyn Sanazaro

Largest bird feeder - Allerton Project farm

Largest hanging basket - Hotel Indigo London Paddington

Longest bridge fountain - Banpo Bridge

Largest Outdoor Skating Rink - Mexico City

Biggest coffin - Eternity restaurant

Highest flagstaff - Turkmenistan

Largest self-supporting dome igloo - APEGNB

Largest administrative building - Romanian Parliament

Largest swimming pool - San Alfonso pool

Largest lenticular mural - Big3D

Tallest Residential Tower - The Chicago Spire

Largest public restroom from China set world record

Longest bridge made from plastic bottles set world record

Largest Paper Brick House set world record

Largest Hindu Temple-The Akshardham Temple

Longest cable-stayed bridge-the Sutong Bridge

Wednesday, October 5, 2011