Largest poster-world record set by Sorouh

[Oct 22] Dubai International Airport,UAE--Sorouh Real Estate P.J.S.C has unveiled a record breaker today - the largest poster in the world.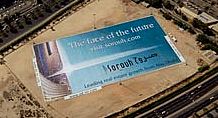 The poster, produced by Ad-Air, is 20,000 square meters in size and measures 200 by 100 metres.

(enlarge photo)

The poster lies lies flat on the ground alongside flight path to Dubai International airport, targeting airline passengers.

Dubai International Airport is the first of over thirty of the world's busiest airport that will feature Ad-Air's unique posters. Bigger than 3 football pitches put toghether, it is estimated that over 14 milion
people will see this site alone, in the next year.

To make the site poster-ready, over 360 tonnes of concrete was removed to level the ground beneath the poster. Over 200 tonnes of concrete was put to solidify the leveled area, whose fencing streches to almost 1 km. nearly 2 kms. of cable wire, 6 x 30 mt.light poles carrying 48 x 2000 watt high-efficiency stadium lamps, which is turn require 150,000 k.w. of power from on-site generators light it up at night.

The poster itself requires 20,000 sq.mt. of special canvass for the sign and the same amount again to keep the poster covered until the campaign begins. It took over 70 workers along with 8 contractors working 24 hours a day over 8 weeks to make it possible.

At the press conference held today at the Hyatt Regency Hotel which overlooks the poster, Sorouh announced the record along with the launch of its Sorouh Faces campaign.

Through this initiative, Sorouh launched a corporate citizenship campaign that will, in the coming months, collect one million faces to place on the poster. For every photo gathered, Sorouh will donate $1 to the UAE Red Crescent, totaling a donation of $1m.

To gather the 1 million photos, Sorouh has launched a dedicated website, www.sorouhfaces.com, where anyone can upload their pictures at no cost.

Innovation, creativity and responsibility to society are inherent to Sorouh's business ethics and corporate culture. Today, in addition to unveiling a world first with a creative approach, we are also proclaiming our adherence to supporting the welfare of others who are not always fortunate enough to have a roof over their heads and who strive for a better life,' said Mr. Masood Al Awar, Special Advisor to the Chairman of Sorouh and Executive Director Sales and Marketing.

After calling upon all present to donate their pictures for this noble cause, Mr. Al Awar explained how the donation would be used. 'Sorouh is committed to bringing communities together in perfect balance. Our $1m donation will help fund a new Red Crescent programme which will repair and reconstruct the homes of the underprivileged, here in the UAE, who cannot afford to carry out this essential work themselves. This programme is close to our hearts as housing is one of our main areas of activity and I am pleased that Sorouh can be a founding donor,' continued Mr. Al Awar.





Fastest single-turbine engine plane