Thursday, February 25, 2010

Largest military aircraft cemetery - 'The Boneyard' sets world record

TUCSON, AZ, USA -- Dubbed The Boneyard, but officially known as the 309th Aerospace Maintenance and Regeneration Group (AMARG) facility, spreads across 2,600 acre site, with a collection of over 4,200 retired aircraft worth $35billion , setting the world record for the Largest military aircraft cemetery.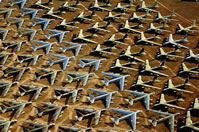 (enlarge photo)

Located in Tucson, Arizona, on the Davis-Monthan Air Force Base, the world's Largest military aircraft cemetery was first set up shortly after World War II. It was chosen for its high altitude and arid conditions, that mean the aircraft can be left outdoors without deteriorating too quickly.

A major industrial centre, AMARG manages an inventory of more than 4,200 aircraft and 40 aerospace vehicles. Some planes are merely stored at the base between deployments, but for more than 80 per cent of the 4,200 aircraft that call it home, it is a cemetery of steel - 350,000 items to be called on when needed.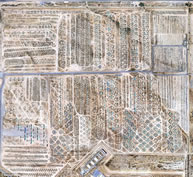 Now, for the first time, a series of high resolution satellite images of the four square mile-site have been released by Google Earth. They show in incredible detail the full range of aircraft found at the site.

(enlarge photo)

A major industrial centre, AMARG manages an inventory of more than 4,200 aircraft and 40 aerospace vehicles.

Among the aircraft are B-52 Cold War-era bombers that were retired in the 1990s under the the terms of the SALT disarmament treaties signed between the US and the Soviet Union.

Also, on show are dozens of F-14 fighter planes which were retired from the US Navy in 2006 and featured in the Hollywood movie, Top Gun. The Boneyard has also featured in a series of films, the most recent being Transformers: Revenge of the Fallen.

Among cabins, wings and undercarriages are more than 4,200 of the western world's military aircraft, said to be worth $US35 billion that were at one point in history the most advanced weapons of the air.

In addition to being a massive plane park, AMARG also refurbishes aircraft, returning them to flying status or preparing them to be transported overland.

Officials at the base say that the parts reclaimed and aircraft withdrawn turns every tax dollar spent into 11 dollars in return.

Over the past 25 years more than a fifth of the aircraft have been returned to flying status, officials said. Similar to a large-scale recycling plant, hundreds of staff sift and sort almost 20,000 pieces of junk.

Most of the aircraft are vacuum packed in the hope they can be restored and returned to service or sold to other nations.

"309 AMARG does not own the aircraft stored here, they still belong to the delivering military services and government agencies," said a base spokesman.

"Some of the aircraft belong to various aviation museums like the National Museum of the U S Air Force, the National Museum of Naval Aviation, the Smithsonian National Air and Space Museum.

"This area was selected for two reasons. The first is Tucson's dry climate minimises damage caused by corrosion. The second reason was the ground under the site consists of about six inches of dirt topsoil."
He added: "Beneath that is a claylike sub layer called 'caliche'. This extremely hard subsoil makes it possible to tow and park the planes in the desert without constructing new parking ramps."

Subscribe to our RSS News feed to receive updates.
Related world records: Military world records

Largest Urn - world record set by Richard Cohen Landscape & Construction Inc.

Largest Free-Flying American Flag-George Washington Bridge sets world record

Largest US Flag-The Superflag-world record set by Thomas "Ski" Demski

Thursday, February 25, 2010