Largest human peace sign-world record set by the Ithaca Festival

[June 23] ITHACA, NY, USA--A total of 5,814 people at the Ithaca Festival joined together to form the largest human peace sign- setting a new world record.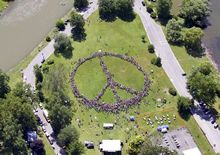 Photo: Members of the Ithaca community and surrounding towns form a peace symbol in Stewart Park, setting a the world record for the largest human peace sign Sunday afternoon in Ithaca. A total of 5,814 people joined the effort created and organized by Ithaca High sophomore and peace activist Trevor Dougherty.
Photo by Eric Stewart/ Ithaca Journal- (enlarge photo)

The massive human peace sign, which stretched from one end of the field in Stewart Park to the other, was composed of 5,814 festival-goers who stood for 20 minutes as volunteers recorded the crowd's attempt to set a World Record by creating the largest human peace sign.

"These people are walking away inspired," said Ithaca High School sophomore Trevor Dougherty, the organizer of the attempt.

A viral video he made last year ("Stand Up for World Peace") for the site promoting world peace was watched more than 700,000 times and inspired him to organize this event, he said.

"We're not going to trash any weapons because of this, but if everyone has the same idea in their mind, that they are for coming together in peace and unity, then there's a community started."

First-year Ithaca Festival director Jacob Roberts, enjoying the sun with his shirt off Sunday, said success was marked by a number of different benchmarks: at least 1,700 people marched in Friday's parade — the largest turnout ever; at least 3,000 people showed up to dine on The Commons even as the world record attempt was occurring; and everyone seemed to be having fun in Sunday's good weather.

Godfrey Higgs, who was one of the thousands of Ithacans making up the peace sign, said the world record attempt was a chance to make a statement as a community. "It's a great thing to say with a lot of people," he said.

The previous world record was a gathering of 2,500 people at the University of Michigan.