Largest chalk pavement art-world record set by JOOnior Smile

CLUJ-NAPOCA, Romania--2,000 children and 150 volunteers present at JOOnior Smile-an event organized by the Romanian Foundation for Children, Community and Family (FRCCF) and the Cluj-Napoca City Hall - created a 6,658 square meters (75,347.37square feet) chalk pavement art- setting the world reocrd for the Largest chalk pavement art.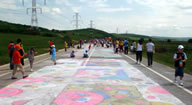 The event, which celebrated the International Children's Day, brought together more than 1,500 children and 150 volunteers on the newest beltway of the town.

(enlarge photo)

The students of "Romul Ladea" Arts High School created the drawing concept for the Largest chalk pavement art, which took the shape of a train with 62 cars. The subject of the drawing was Child Smile .

To do the "longest child smiles train", the children used 10,000 boxes of coloured chalk and drank over 1,500 litters of water.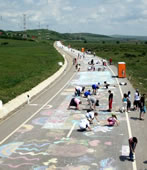 JOOnior Smile was a fundraising event. From the 28,000 lei (~7,900 EUR) raised for this event, this automn FRCCF will use 21,000 lei (~6,000 EUR) to support the kids from low income families from Cluj not to drop out school.

(enlarge photo)

The support provided by the event sponsors and media partners was used to organise the event as well as to support the children from low income families in Cluj.
Vodafone Fundation, Emerson and Unimet CUG wished to support this cause by giving money to JOOnior Smile, meanwhile Logo Design, Rosal Grup and RATUC offered logistic support.

Link: Largest chalk pavement art Photo Gallery, click here



Related world records:
Longest letter to Santa Claus-world record set by the Romanian Post

Largest administrative building-world record set by The Palace of the Romanian Parliament

Longest Bulz-world record set by the villagers from Turia

Largest balmos-world record set by Alba Prefecture

Monday, January 19, 2009