Largest Brick-world record set by Baby Clay from ACME

[Nov 28]FORTH WORTH,TX,USA-- Baby Clay, a 116 inches long (9 ft. 8 in.) brick created by Acme Brick, has set the world record for the Largest brick.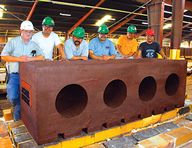 This "baby" sets all kinds of records because he weighs in at over three tons and is 116 inches long (9 ft. 8 in.) – one inch for every year that Acme has been in business. The brick also measures 39 inches tall and 39 inches wide.That makes Clay nearly 3,000 times the size of a standard brick.
(enlarge photo)
The newborn was named Clay because he is comprised of clay materials from each of Acme's 23 brick plants around the Southwest.

Acme President and CEO Dennis Knautz said, "We think that the creation of Clay demonstrates exceptional expertise among our brickmaking staff. This was a huge, unprecedented challenge for them. It seems fitting that one of America's oldest and the world's largest American–owned brick company should produce the world's largest brick to commemorate Acme's 116 years in business."

Baby Clay is Acme's fifth attempt to create this world record brick. The first four attempts, beginning in September 2004, were tremendous learning experiences for the determined brickmakers.

The crew made adjustments, and the fifth time was the charm. Acme's Denton plant required 13 months to create Baby Clay compared to the normal time of a week for a normal brick.

"I think that the successful birth of Baby Clay also says something about the traditional American values of hard work and persistence as demonstrated by Harland Dixson (Acme's plant manager); Mack Wilcox, our project manager; and his crew," said company president Knautz.

During October and November, Baby Clay has been on tour, visiting Acme offices and plants in celebration of the company's 116th birthday. A special trailer was created to accommodate the newborn in his travels. It is anticipated that Clay will be making a number of "guest" appearances in other venues as well.
[ Submit a world record ] [ World Record Certificate]
[ Book of World Records ] [ World Records Store ] [ Club ]


Strongest Ear-Lasha Pataraia


Youngest Skydiver-Valentina Mihanciu


Fastest race around the 'World'-Rohan Veal


Largest passenger plane-Airbus A380


Fastest 10K race-by Hillary Kimaiyo


Most 10 scores at Olympics-Nadia Comaneci


Largest Simultaneous Thriller Dance


Fastest board breaking-record set by Mitch Ellis