Largest administrative building: world record set by The Palace of the Romanian Parliament

[April 4] BUCHAREST, Romania -- The Palace of the Romanian Parliament (Chief Architect Mrs. Anca Petrescu) has a floor area of 360,000 square meter - setting the world record for the Largest administrative building (for civilian use*).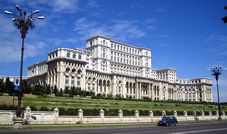 The Palace of the Romanian Parliament is also the world's Heaviest Building: it was made from 1.5billion lb (700,000 metric tones) of steel and bronze, plus 35.3 million ft³ (1 million m³) of marble, 7.7 million lb (3,500 metric tones) of crystal glass, and 31.7 million ft³ (900,000 m³) of wood. (enlarge photo)

The Palace of the Parliament is also the world's Most Expensive Administrative building in the world: updated total costs (2006) are estimated at 4 billions USD.
The building was constructed almost entirely of materials of Romanian origin.

Among them: 3,500 tonnes of crystal - 480 chandeliers, 1,409 ceiling lights and mirrors were manufactured; 700,000 tonnes of steel and bronze for monumental doors and windows, chandeliers and capitals; 900,000 m³ of wood (over 95% domestic) for parquet and wainscotting, including walnut, oak, sweet cherry, elm, sycamore maple; 200,000 m² of woolen carpets of various dimensions (machines had to be moved inside the building to weave some of the larger carpets); velvet and brocade curtains adorned with embroideries and passementeries in silver and gold.

The security features, a testimony to Ceausescu's fears of attack, might still be useful during the April NATO meeting if the Alliance's leaders were to come under threat, said its designer and chief architect, Anca Petrescu. "The building is prepared for a high degree of security," she said for Reuters.

The underground parking has enough space for 20,000 cars!

The Palace of the Parliament measures 270 m by 240 m, 86 m high, and 92 m under ground. It has 1,100 rooms and is 12 stories tall, with four additional underground levels currently available and in use, with another four in different stages of completion.


The Chief Architect was 28yrs old Mrs. Anca Petrescu(photo left); she was the leader of a team of 700 architects and 20,000 people working 27/7.
(enlarge photo)

The building was originally known mainly as the House of the People (Casa Poporului), and sometimes as House of the Republic (Casa Republicii), and was intended to serve as headquarters for all the major state institutions (similar to what the Houses of Parliament operated like).

However, the project was just nearing completion at the time of Nicolae Ceausescu's 1989 overthrow and execution.

Since 1997, the building has housed Romania's Chamber of Deputies, which had previously been housed in the Palace of the Patriarchy; the Romanian Senate joined them there in 2005, having previously been housed in the former Communist Party Central Committee building.

The Palace also contains a massive array of miscellaneous conference halls, salons, etc., used for a wide variety of other purposes.

Also in the building is the headquarters of the Southeast European Cooperative Initiative (SECI), an organization focused on regional cooperation among governments against cross-border crime.

Parts of the building (some of the west wing, some of the east wing, parts of the second floor, basement 3 and everything below) are yet to be completed.

Currently, a new underground car-park is being built inside a former stadium, currently used as a warehouse, which was covered during the construction of the palace. Tunnels linking 13 Septembrie Avenue with the basement of the building will be built.

There are public tours organized in a number of languages.

The Palace of the Romanian Parliament hosted the largest NATO summit on on April 2-4, the largest international event ever staged in Romania.
Heads of state or government from 26 NATO member states attended the summit in the Union Hall, the largest room in the building, which features a sliding glass ceiling that could support the weight of a helicopter.

*The largest building for MILITARY use is the Pentagon in Arlington, Virginia, USA: it has a floor area of 6.5 million ft² (604,000 m²).

Panoramic view- courtesy of : www.panoramax.ro