World Record Academy's Awards

Friday, February 26, 2016
'Mighty Little Man' receives '2016 Pet of the Year' Award from World Record Academy (VIDEO)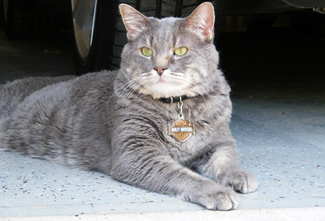 MADISON, AL, USA -- 'Mighty Little Man', a male domestic housecat, (owner Jonny Payne), survived a combined total of eighteen events and ailments, over half of which were life-threatening, during his thirteen year life-span




Thursday, January 22, 2015
Ilie Dobre receives "Media Man of the Year" Award from World Record Academy (VIDEO)
BUCHAREST, Romania -- Ilie Dobre, sports commentator for the Ra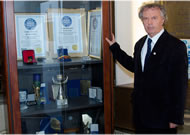 dio Romania News (Romania's National State Radio) has been named winner of "Media Man of the year" 2014 Award by the World Record Academy, the world's largest organization which verify & certify world records; Ilie Dobre has been recognized by the World Record Academy in recognition of his efforts in the use of media in promoting sports, moral ideals, fair play, tolerance and the social value of sport



Guinness world record holder James Anthony Tan receives '2013 Man of the Year' Award
MIAMI, USA -- Twenty-one-year-old Capt James Anthony Tan, born with dyslexia, is a Malaysian pilot who h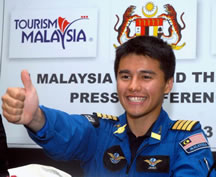 as managed to fly around the world in a tiny, single-engine Cessna 210 Eagle aircraft, setting the new world record for the Youngest pilot to fly around the world. World Record Academy has chosen Captain James Anthony Tan as the receiver of the '2013 Man of The Year' Award for his accomplishment.




Dr. Bruce McMahan Receives "2012 Benefactor of the Year" Award
MIAMI, FL, USA -- Financier, philanthropist, and brainchild of the Maxximus LNG 2000, Dr. D. Bruce McMahan firs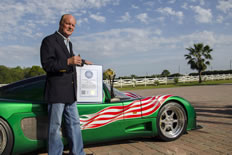 t made the record books with his Maxximus G-Force supercar in late 2008.
At a time when oil prices were soaring, Dr. McMahan conceived a strategy of utilizing America's highly abundant yet untapped fossil fuel, natural gas.



Maxximus LNG 2000 Receives Car of The Year Award
MIAMI, FL, USA -- The Maxximus LNG 2000, the brainchild of financier Bruce McMahan has been named winner of Car of the Year 2012 Award b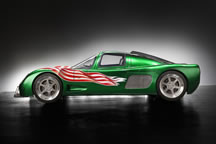 y the World Record Academy, the world's largest organization which verify & certify world records.
The Maxximus LNG 2000 has been recognized by the World Record Academy for its overall balance and the outstanding achievements in speed, fuel efficiency, dynamics and originality.



2012 Technology Award:
Largest biometric database: Emirates Identity Authority

"World Academy" awards "Emirates ID" the 2012 International Technology Award


2007 Business Book of the Year: You Have Three Minutes! Learn the Secret of the Pitch from Trump's Original Apprentice