World record for opening-weekend box office


[May 8] AUSTRALIA / Action film Spider-Man 3 has movie-goers in a spin with ticket sales achieving a world record for opening-weekend box office. Around the globe the film grossed $454 million in its first weekend, according to its distributor, easily beating the record of $308 million for a worldwide debut reached by Star Wars: Episode III — Revenge of the Sith in 2005.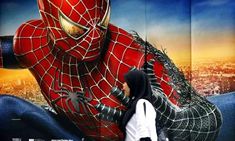 A woman in Hong Kong walks past a poster promoting the new Spider-Man movie on its record-breaking, worldwide opening weekend. Photo: AP

Worldwide Chairman and Chief Executive of Sony Pictures Michael Lynton said the studio was thrilled and surprised by the figures. "It was very unexpected how well it did," he said. "We thought it would perform at the level of the first or second film, but it has well outperformed both of those."
According to website Box Office Mojo, the production cost $312 million and — after one weekend — is already in the top 100 highest-grossing films worldwide.
''Spider-Man 3?' is also rumored to be the most expensive movie ever made. According to reports, the film - which is based on the popular Marvel comic book series - cost more than $500 million to make.
A Sony representative claims the film cost $270 million. One movie source is adamant the actual total was higher, with production costs alone reaching $350 million, while New York location shoots cost upwards of $1 million a day.
Radar magazine reported the final bill for "Spider-Man 3," which stars Kirsten Dunst and Tobey Maguire, was $500 million.
It isn't unusual for Hollywood blockbusters to cost mega-bucks. "Spider-Man 2? reportedly cost $210 million, "King Kong" $207 million, and "Titanic" $247 million.