Monday, June 26, 2017

Most Original Acrylic Paintings on Canvas: world record set by Jax Frey (VIDEO)

METAIRIE, LA, USA -- Jax Frey, an award-winning New Orleans artist who creates bold, colorful, highly textured acrylic and mixed-media paintings with Louisiana-inspired and figurative expression, completed her 20,000th 'Little Views' mini painting, thus setting the new world record for the Most Original, Acrylic Paintings on Canvas by one Artist, according to the World Record Academy.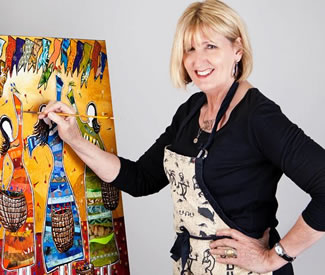 Photo: Jax's popular line of mini art 4-inch square paintings - Little Views - features Louisiana icons and images, and can be found in local gift shops and galleries throughout the state and in collections worldwide. More than 20,000 Minis have been sold in her career, which is a new record for the Most Original Acrylic Paintings on Canvas. Photo courtesy: Jax Frey (enlarge photo)

The Guinness World Records world record for the most people painting their fingernails simultaneously is 1,328, achieved by Inglot (Poland) and Major Brands (India) at Palladium in Mumbai, India, on 8 March 2016.

Guinness World Records also recognized the world record for the most faces painted in one hour by an individual; it was achieved by Gary Cole (USA), sponsored by Grimas, who painted a total of 217 different faces, using a minimum of three colours per face at Almondvale Shopping Centre in Livingston, West Lothian, UK on 1 September 2007.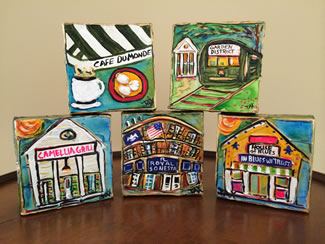 "I have been painting my small (4x4") creations (officially called 'Little Views' and unofficially called mini paintings) since Jan 2010. Since I have sold all of my mini paintings (many of them are pre-ordered), I have careful, accurate sales records of all the paintings. Photo: Minis - Susie Grojeans's collection (enlarge photo)

"I count up all the sales records once or twice a year and keep those tallies. An Accounting firm has verifyied my numbers.

"Once I saw that the number of my paintings was nearing the 20,000 mark, I checked around for records of this type of thing.
The closest I could find was that of Pablo Picasso's record which has him listed as the Worlds Most Prolific Painter. Records show him as having done 13,500 paintings and designs, 100,000 prints and engravings, 34,000 book illustrations and 300 sculptures and ceramics. Please note that Picasso's prints, engravings sculptures and ceramics are not paintings and not done on canvas.

"I was able to paint so many paintings because I truly enjoy my work and so I spend many hours a day in my studio painting. I get orders from all over requesting mini paintings and I don't like to disappoint my art clients. They seem to enjoy my minis as much as I do.

"I have no help of any kind in creating the paintings so they are all done by one artist. It helps that I am fairly organized in my own way and have developed systems that allow me to paint efficiently.

About the artist:
Born in New Orleans, Jax Frey was instilled from birth with a sense of celebration of Louisiana culture, food, family and fun. Translating that celebration onto canvas involves creating bold, highly-textured, mixed media images that call to mind everything Louisiana.
Jax's popular line of original mini art – Little Views – features hundreds of Louisiana icons and images. Over 19,000 original Little Views have been sold and welcomed in art collections worldwide.
Jax is also the co-founder of two women's organizations - Women of Infinite Possibilities, a women's organization based on networking, empowerment and good times; and The Power of 100 - NOLA - a philanthropic, New Orleans women's group.

Visit Jax's artwork at www.artbyjax.com and find 'Jax Art & Gifts on Facebook, Instagram, Twitter, Linked In and Pinterest.

Record attempt pre-registered: June 1, 2017
Record submitted: June 26, 2017
Record verified & listed: June 26, 2017
World Record Certificate shipped: June 29,2017
Related world records:
Largest flag mural: Robert Wyland breaks Guinness World Records record (VIDEO)

Largest Paintbrush Mosaic: Olympic Paints and Stains breaks Guinness World Records record (VIDEO)

Largest cat painting: Giant 19th century painting sets world record (VIDEO)

Largest rice field mosaic: Japan breaks Guinness World Records record


Largest mattress: Dolidol Maroc


Largest lip dub: City of Vic


Longest playable stringed musical instrument: CapitaLand Singapore

Largest display of toy windmills: energis GmbH


Most People Waving Hands Simultaneously: AG Insurance