Most expensive Chinese painting-world record set by Qiu Ying

[Nov 7]BEIJING,China--A work by 16th-century artist Qiu Ying was sold at auction in Beijing for 79.52 million yuan (10.7 million dollars), setting a world record for a Chinese painting, the auction house said Wednesday.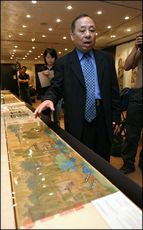 China Guardian Auctions said the sale of "Red Cliff Handscroll" to an unnamed bidder on Tuesday also marked the first time that a Chinese painting had broken the 10-million-dollar barrier.

"We are very pleased... not only has the auction price created a world record for a Chinese painting, it signifies a new stage for Chinese paintings in international sales," auction house head Wang Yannan said in a statement.

Qiu (1494-1552), a classical artist from Suzhou in eastern Jiangsu province, was a master of "Gongbi", a meticulous brush technique requiring precise detail.

He left behind just 40 pieces of art, most of which are now in museums, the China Daily newspaper said.

"Red Cliff Handscroll" once belonged to China's last imperial family and later fell into the hands of private collectors.