Wednesday, March 14, 2012

Most 4 x 6 inch works of art displayed in a gallery: Kelowna Art Gallery sets world record

Kelowna, BC, Canada--A total of 4,154 postcard-sized original works of art on paper currently adorn the walls of the Kelowna Art Gallery's Scotiabank Studio and both sides of one of the gallery corridors; in their entirety, the works comprise the exhibition, Local Views to make World News - which sets the world record for the Most 4 x 6 inch works of art displayed in a gallery, according to World Record Academy: www.worldrecordacademy.com/.


(enlarge photo)

The Guinness world record for the most artists working on the same art installation was achieved by 28,267 Taglit-Birthright Israel's participants and supporters who contributed by sharing their fingerprints to create the artwork 'Taglit´s Mark´, resembling the flag of Israel. The artwork was designed by Javier Gelbwaser (Israel) and displayed in Tel-Aviv, Israel.

Guinness World Records also recognized the world record for the largest confetti mosaic; it consisted of 587,000 hole punched dots and measured 3.07 m x 2.08 m (10 ft 1 in x 6 ft 10 in). It was made by Nikki Douthwaite (UK).

The gallery began accepting small-scale, Okanagan-themed, original, landscape-based works of art created by community members in an attempt to set a new world record.

Arrival of submissions to the project was slow at first, but quickly gained momentum as community groups, local artists, media outlets, media personalities, schools, and other eager participants learned of the project.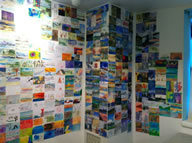 (enlarge photo)

"We were hoping for a good response, and we received an overwhelming response," said Nataley Nagy, KAG executive director.

Gallery marketing coordinator Kris Johnson says: "We thought 'hey, let's just go for it and see what happens,' and what ended up happening is that rather than receiving 2,500 submissions, we received 4,154 submissions from all over the Okanagan, the Lower Mainland and even as far away as Texas and India."

"We truly hope this project inspires museums, galleries, and other cultural organizations to challenge our record and undertake projects such as this of their own accord," said Nagy.

Related world records:
Largest portrait made of dice: Frederick McSwain (Video)

Largest Bead Mosaic: Stephan Wanger sets world record (Video)

Largest coffee bean mosaic: Saimir Strati sets world record (Video)

Largest violin ensemble: Taiwan students sets world record (Video)

Largest 3D painting: Reebok CrossFit sets world record (Video)

Catchiest song ever written: We Are The Champions (Video)

Largest Embroidery by a Single Person: Heather Hems

Longest drumming marathon: Steve Gaul (HD Video)

Largest Lite-Brite Picture: Rob Surette set world record (Video)

Longest church organ marathon: Jacqueline Sadler

Most characters played by one actor: Joe Bone

Deepest a cappella performance: Sudbury choir

Fastest Violin Player: Rock Violinist Ben Lee

Largest Virgin Mary Painting: Suzanne Kraus Mancuso

Wednesday, March 14, 2012 4:18 PM