Longest drama improvisation-world record set by St Catherine's College

[April 19] SINGLETON, Australia--ST Catherine's College senior drama class have set a world record for non-stop drama improvisation after completing 24 hours.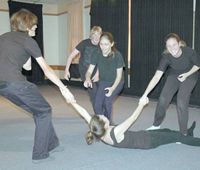 Photo: Dylan Boyd, Daniel Coffey, Alex Marzol, Tahnee Nicholson fight to see who can gain control of Olivia Godschalk during their improvised 24 hours of drama. Photo by Singleton Argus
(enlarge photo)

The world class improvisation began last Friday when students took to the stage at 2pm and remarkably performed until 2pm the following day.

For the full duration students played out scenes relating to a rubbish dump topic, given to them only seconds before they went on stage.

Year 12 student Olivia Godschalk said failing had not been an option for the group who were determined to make the full 24 hours. "The countdown to go on stage was really scary. "The first 15 minutes we had been on it felt like ages and it had only been 15 minutes and I thought it's going to be a long time," she said.

Teachers, staff and students at St Catherine's College sponsored the senior drama class in their efforts.

Students that took part in the unofficial world record included Alex Marzol, Andrew Johnston, Alicia Manning, Mitchell Stewart, Dylan Boyd, Tahnee Nicholson, Daniel Coffey, Olivia Godschalk, Wade Pease and former St Catherine's student Callum Howard and of course drama teacher Lisa Hall.