Thursday, April 15, 2010

Largest String Ensemble - world record set by String Jam '10

KIRKLAND, Wash., USA -- 392 musicians, ranging in age from 5 to 65, from Redmond and the region gathered at the Juanita High School Field House for the "String Jam '10" event, organized by the Redmond Region Orchestra Boosters - setting the new world record for the Largest String Ensemble under one roof.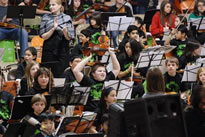 (enlarge photo)

The event netted approximately $7,500 that will be used to support orchestra programs in the Lake Washington School District.

String Jam '10 was videotaped and monitored by more than 20 designated observers who were posted throughout the performance area to ensure that all registered participants were actually playing.

Most of the players at String Jam '10 were public school orchestra students who wanted to demonstrate the importance of school music programs, especially in a weak economy.

The ensemble began the event with a classical piece, Pachelbel's Canon in D and wrapped up its mass performance with Deep Purple's classic rock hit "Smoke on the Water."

"The excitement, concentration and sheer joy that I saw in participants' faces is a memory that I will keep forever," said Paula C. Ferguson, orchestra teacher at Redmond High School and Redmond Junior High School.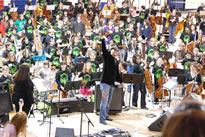 Photo: Geoffrey Castle leads the Largest String Ensemble

(enlarge photo)



"The event was a great reminder to me that we're not just teaching string playing and music but trying to relay to our students the love of music and how it can be part of them for the rest of their lives."

String Jam '10 was presented by the Redmond Region Orchestra Boosters (a non-profit parent group that supports school orchestra programs), and the Lake Washington School District.

String Jam was sponsored by Classical KING-FM and the City of Redmond Arts Commission.

Subscribe to our RSS News feed to receive updates. Related world records:
Most hammered dulcimers on stage-ODPC Funfest sets world record

Youngest String Orchestra to Play at Carnegie Hall-world record set by South Pasadena Children's Orchestra

Largest Tamburitza Orchestra - Croatian tamburitza band "100 tamburasa" sets world record

Thursday, April 15, 2010