Friday, August 3, 2012

Youngest Stock Car Driver: Braden DuBois sets world record (PICS & VIDEO)

Onaway, MI, USA -- Braden DuBois, a nine year old from Indian River, MI, raced his Chevrolet 4 Cylinder Race car at the Onaway Speedway in Onaway, MI, for a full season and is currently third in points for his division, setting the new world record for the Youngest Stock Car Driver, according to the World Record Academy: www.worldrecordacademy.com/.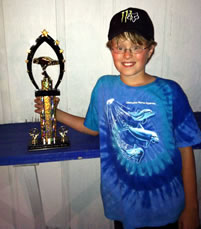 Photo: Nine-year-old racer Braden DuBois poses with a trophy after at a recent race at Onaway Speedway. DuBois has been recognized by the World Record Academy as the world's youngest stock car driver. DuBois, the son of Jim and Krista DuBois, is one of the top racers in his league at Onaway Speedway and has received three trophies for top-5 finishes. (enlarge photo)

The Guinness world record for the youngest driver to win a NASCAR race was set by Joey Logano (USA) at the age of 19 years, 1 month, 4 days when he won the Lenox Industrial Tools 301 at New Hampshire Motor Speedway, USA.

Guinness World Records also recognized the world record for the youngest driver to win a Formula One World Championship, set by Sebastian Vettel (Germany) who won his first title at the Abu Dhabi Grand Prix, United Arab Emirates, aged 23 years and 134 days.

His father built him a four-cylinder stock car to help get him started.

"This stock car was designed specifically to suit young racers like Braden. Jim also helps Braden practice at the speedway on Fridays and Saturdays," The Alpena News reported.

Braden, the world's youngest stock car driver, said: "My dad encouraged me into stock car racing. It started as a hobby. It's a lot of fun. I have to stay focused and finish in one piece. My car can be fixed. It is about safety and car control right now."

The age to race in this division is 12 years old. Braden is the youngest by 3 years.

He races fellow racers "who have the same type cars and motors as he does. He is competitive and has great sportsmanship with his fellow racers. Sometimes being a great role model to racers much older than himself."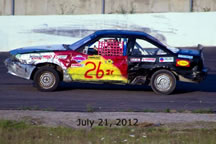 (enlarge photo)

His Mum Krista also says he "is very safety conscious and understands the importance of being in control over winning."

"He is out there to learn and of course wants to win but he has a lot of patience with himself which is crucial in being safe for a child his age.

"Braden has been around racing all his life and really understands what it takes to build a car and the maintenance it takes to keep his car running. We were able to let him try at a young age by owning the track."

(will be updated with exclusive video)

Related world records:
Youngest fashion designer: Duda Bündchen sets world record (PICS & Video)

Youngest Zumba Instructor: Catalina Mejia sets world record (Video)

Youngest DJ to beat mix 10 songs in 1 minute: DJ Jack Hill sets world record (Video)

Youngest licensed stockbroker: John Wang Clow sets world record

Youngest table tennis player: Jamie Myska-Buddell sets world record (Video)

Youngest Cancer Researcher: Angela Zhang sets world record (Video)

Youngest stock car driver: Dustin Jackson (Video)

Youngest App Developer: Thomas Suarez (Video)

Youngest judge: 17-Year-Old Judge

Youngest archeologist: Emily Baldry (Video)

Youngest nuclear scientist: Taylor Wilson (Video)

Youngest TV reporter: Five-year-old Jane Haubrich (Video)

Youngest preacher: Kanon Tipton (HD Video)

.

Youngest Professional Drummer: Julian Pavone (Video)

Youngest climber to conquer the Seven Summits: George Atkinson

Youngest professional soccer player: Baerke van der Meij (Video)

Youngest astrophysics researcher: Jacob Barnett (Video)

Youngest Gamer to Achieve a Perfect Score on Dance Dance Revolution: Ryota Wada

Youngest to make a lifesaving call: 3 Year Old AJ Hayes

Youngest Yoga Teacher: 6-Year-Old Shruti Pandey

Youngest Singer: 3 Year-Old Atithi Gautam

Youngest person to discover a supernova: 10-Year-Old Kathryn Gray

Youngest World Map memorizer: 6-Year-Old Mohamed Ashik

Youngest live portrait artist: Harris Imtiyaz Khan

Youngest to state all the U.S capitals: Shruthi Vairavan

Youngest to state all the U.S capitals: Shruthi Vairavan

Youngest Opera Singer: Jackie Evancho

Youngest FisherGirl: Ella Windschitl

Youngest to climb Mount Everest: Jordan Romero

Youngest to circumnavigate the globe: Jessica Watson

Youngest Golfer to Score a Hole-in-One: Eleanor Gamble

Youngest person to have built an electric truck: Deitrich Ludwig

Youngest Vacuum Cleaners Specialist: Kyle Krichbaum

Youngest drum corps queen: Julia Lira

Youngest to climb world's highest peaks: Johnny Collinson

Youngest successful painter: Kieron Williamson

Youngest Skateboarder: Evan Wasser

Youngest wing-walker: Tiger Brewer

Youngest solo pilot to fly five different aircrafts: Evan Graham

Youngest String Orchestra to Play at Carnegie Hall: South Pasadena Children's Orchestra

Youngest Billiard Player: Keith O'Dell Jr

Youngest male radio presenter: Jack Hill

Youngest college lecturer: Aman Rehman

Youngest passenger on wheightless flight: Jules Nader

Youngest Successful Singer: Cleopatra Stratan

Youngest to solo airplane and helicopters on same day: Errick Smith

Youngest DJ: Jack Hill

Youngest Person Performing Carnatic Music on the Violin: Sandeep N Bharadwaj

Most expensive Baby photos: Angelina Jolie's twins

Youngest swimmer Maharnth

Youngest college professor: Alia Sabur

Youngest pilot to set world flight records: Jonathan Strickland
Youngest leader of the Formula One world championship

Youngest lead climbing world champion: Johanna Ernst

Youngest person to win a Japanese Golf male tournament

Youngest relay team to swim the English Channel: English swimmers

Youngest Skydiver: Valentina Mihanciu

Youngest pilot completes round-the-world flight

Youngest to circumnavigate the globe: Jessica Watson

Youngest rower to cross an ocean solo: Katie Spotz

Youngest to sail solo around world: Zac Sunderland

Youngest passenger to fly in microgravity: Jules Nader

Youngest to solo airplane and helicopters on same day: Errick Smith

Friday, August 3, 2012 10:55 AM