Wednesday, March 28, 2012

Youngest DJ to beat mix 10 songs in 1 minute: DJ Jack Hill sets world record (Video)

Weston super Mare, UK--DJ Jack Hill, 11, successfully mixed 10 songs in 1 minute, setting a new world record for the Youngest DJ to mix 10 songs in 1 minute, according to World Record Academy: www.worldrecordacademy.com/.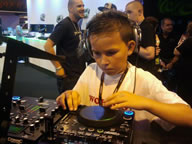 (enlarge photo)

The Guinness world record for the Youngest Club DJ was set by Jack Hill (no other info on their website).

Guinness World Records also recognized the world record for the oldest dj, set by Ruth Flowers (UK), who played over 38 sets including festivals and clubs over the world in 2010, when she claimed to be 69.

Jack said: " It was quite hard to sync the songs in such a short time,but i really enjoyed the challenge. I am really pleased to have added a new world record to my collection."

"During the attempt, i didn't really have time to feel nervous, i just concentrated on getting the mixes right. I thought it would be a fun new world record."

On the Net:
Jack's website: www.djjackhill.co.uk
Jack's Facebook page
Twitter: @djjackhill1

The 11-year-old, who has been spinning disks since he was three, currently holds four world records.

Aged six, he set a World Record with the World Record Academy as the youngest DJ when he performed his first paid-for gig – a record he still holds.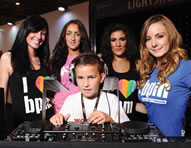 (enlarge photo)

Jack, of Upper Church Road, also holds records for being the world's most successful young DJ, the youngest club DJ and the youngest male radio presenter.

The new world record was sponsored by Weston Karaoke and Disco.

"I support these world records for Jack, because he has a rare talent. He has a real passion for Dj'ing and when he gains a new world record it makes me so proud to be involved," said Bob Hill.

Related world records:
Youngest human DJ: Jack Hill

Most Successful Young Dj: Jack Hill

Youngest male radio presenter: Jack Hill

Oldest Female DJ: Mammy Rock

Longest serving radio DJ: Herb Kent

Wednesday, March 28, 2012 1:21 PM