Friday, November 18, 2011

Youngest CEO: Harli Jordean sets world record

LONDON, UK -- Harli Jordean, 8, from Stoke Newington, London, has been running his successful website marbleking.co.uk for two years, selling tubs of the glass toys to £599 limited edition Duke of York solitaire tables , setting the world record for the Youngest CEO, according to World Record Academy (www.worldrecordacademy.com).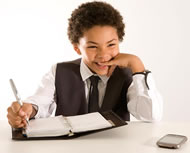 Photo:Harli Jordean, eight, is the world's youngest CEO, having turned his love of marbles into a money-making phenomenon. (enlarge photo)

The Guinness world record for the youngest stock car racer was set by Amanda 'A.K' Stroud (USA) who was a regular competitor in the Papa John's Pizza Pro-Cup racing division at Hickory Motor Speedway, North Carolina, USA, aged 12.

Guinness World Records also recognized the world record for the youngest undergraduate, set by Michael Kearney who started studying for an Associate of Science degree at Santa Rosa Junior College, California, USA, at the age of 6 years 7 months.

The World's Youngest CEO has been running the successful website – marbleking.co.uk – for two years and, when he's not playing with his friends, the tiny tycoon spends all his spare time buying stock, handling orders and liaising with suppliers.

The mini mogul spends his spare time buying stock, processing orders and liasing with suppliers for his website www.marbleking.co.uk.

The business is now turning over thousands of pounds and demand for products is so high that Harli has had to recruit help from his mum and two older brothers.

Harli, from Stoke Newington, London, said: "I like having my own company. I like being the boss."

The tiny tycoon found his flair for trading when he swapped marbles with his friends at school, reportd The Daily Mirror.

But when some older schoolkids took all his stock, Harli turned to his mum, Tina, to help him buy some more from the internet.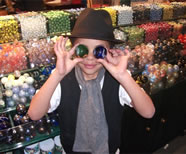 (enlarge photo)

After struggling to find what he wanted online, Harli begged her to start his own webiste and within months, orders were flooding in from around the world.

A simple tub of marbles at Marble King goes for 7.99 pounds (S$16.40), while a limited edition Duke of York solitaire tables can set you back 599 pounds.

In an interview with The Sun, his mum, Tina said: "Harli has been obsessed with marbles ever since he was six.

"His obsession became so big we started calling him the Marble King - so when he wanted to set up a website it was the natural name for it.

"I never thought it would become so popular - we are struggling to cope with the number of orders at times. "I helped him set up the site, but he's now trading with the world instead of just the playground all on his own, he has a hand in everything.

"As a boss he is very amenable and has his own ideas of how to do things."

The ambitious little boy now dreams of expanding his business, and has even created his own brand of marbles, which are made in China and sold on his website.

Related world records:
Youngest App Developer: Thomas Suarez sets world record (Video)

Youngest judge: 17-Year-Old Judge

Youngest archeologist: Emily Baldry (Video)

Youngest nuclear scientist: Taylor Wilson (Video)

Youngest TV reporter: Five-year-old Jane Haubrich (Video)

Youngest preacher: Kanon Tipton (HD Video)

.

Youngest Professional Drummer: Julian Pavone (Video)

Youngest climber to conquer the Seven Summits: George Atkinson

Youngest professional soccer player: Baerke van der Meij (Video)

Youngest astrophysics researcher: Jacob Barnett (Video)

Youngest Gamer to Achieve a Perfect Score on Dance Dance Revolution: Ryota Wada

Youngest to make a lifesaving call: 3 Year Old AJ Hayes

Youngest Yoga Teacher: 6-Year-Old Shruti Pandey

Youngest Singer: 3 Year-Old Atithi Gautam

Youngest person to discover a supernova: 10-Year-Old Kathryn Gray

Youngest World Map memorizer: 6-Year-Old Mohamed Ashik

Youngest live portrait artist: Harris Imtiyaz Khan

Youngest to state all the U.S capitals: Shruthi Vairavan

Youngest to state all the U.S capitals: Shruthi Vairavan

Youngest Opera Singer: Jackie Evancho

Youngest FisherGirl: Ella Windschitl

Youngest to climb Mount Everest: Jordan Romero

Youngest to circumnavigate the globe: Jessica Watson

Youngest Golfer to Score a Hole-in-One: Eleanor Gamble

Youngest person to have built an electric truck: Deitrich Ludwig

Youngest Vacuum Cleaners Specialist: Kyle Krichbaum

Youngest drum corps queen: Julia Lira

Youngest to climb world's highest peaks: Johnny Collinson

Youngest successful painter: Kieron Williamson

Youngest Skateboarder: Evan Wasser

Youngest wing-walker: Tiger Brewer

Youngest solo pilot to fly five different aircrafts: Evan Graham

Youngest String Orchestra to Play at Carnegie Hall: South Pasadena Children's Orchestra

Youngest Billiard Player: Keith O'Dell Jr

Youngest male radio presenter: Jack Hill

Youngest college lecturer: Aman Rehman

Youngest passenger on wheightless flight: Jules Nader

Youngest Successful Singer: Cleopatra Stratan

Youngest to solo airplane and helicopters on same day: Errick Smith

Youngest DJ: Jack Hill

Youngest Person Performing Carnatic Music on the Violin: Sandeep N Bharadwaj

Most expensive Baby photos: Angelina Jolie's twins

Youngest swimmer Maharnth

Youngest college professor: Alia Sabur

Youngest pilot to set world flight records: Jonathan Strickland
Youngest leader of the Formula One world championship

Youngest lead climbing world champion: Johanna Ernst

Youngest person to win a Japanese Golf male tournament

Youngest relay team to swim the English Channel: English swimmers

Youngest Skydiver: Valentina Mihanciu

Youngest pilot completes round-the-world flight

Youngest to circumnavigate the globe: Jessica Watson

Youngest rower to cross an ocean solo: Katie Spotz

Youngest to sail solo around world: Zac Sunderland

Youngest passenger to fly in microgravity: Jules Nader

Youngest to solo airplane and helicopters on same day: Errick Smith

Friday, November 18, 2011