Thursday, January 20, 2011
Most People Crammed in a BMW Mini: Dance company sets world record
New YORK, NY, USA -- The Pilobolus Dance Co. successfully fit 26 people in a BMW Mini at the Equitable Center- setting the new world record for the Most People Crammed in a BMW Mini , during an event sponsored by EMC, the world's leading developer and provider of information infrastructure technology.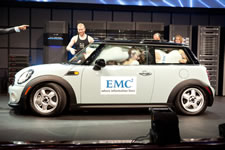 Photo: Members of the Pilobolus Dance Co. break a world record for people fit in a BMW Mini. Photo: Matt Peyton / AP for EMC
(enlarge photo)

Guinness World Records representatives were on hand to document the record breaking event.

The previous Guinness world record was set by 24 members of the New Zealand Allstar Cheerleading Team in Auckland, New Zealand. The team comprised 23 girls and 1 (lucky?) guy who remained crammed in a new MINI Cooper D for 5 seconds.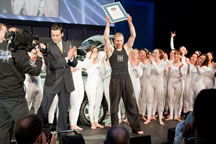 Photo: Members of the Pilobolus Dance Co., receive a world record certificate for breaking the world record for people fit in a BMW Mini. (enlarge photo)

The first registered Guinness world record for the BMW MINI was recorded in September 2004, TV presenter Kate Clarke while hosting ATHENS ON LOCATION for Sprint/NBC in Athens, during the Greece Olympics, filmed 21 students fitting into ONE Mini-Cooper.
The students came from around the world and set the Guinness World Record on a warm late-summer's evening.

Guinness World Records recognized many similar records, like: The most people crammed into a double decker bus, The record for most people crammed in a Mini and the most people crammed into an old style VW beetle.

Subscribe to our free RSS News feed to receive updates.

Related world records:
Most popular car color: Silver - 2010's most popular car color

Most People Crammed Into A Smart Car: Female students

Oldest driver - Verna Truax

Longest rail tunnel - The Gotthard Base Tunnel sets world record

Longest traffic jam: 60-mile, 11-day Chinese traffic jam sets world record

First Flying Car - The Terrafugia Transition sets world record

Most attempts to pass driving test - Cha Sa-soon

Thursday, January 20, 2011