Largest Parade of Mitsubishi Lancer Evolutions-world record set by Mitsubishi Lancer Register

CIRENCESTER, UK --On Saturday July 12th 2008, the UK based organisation for EVO owners and enthusiasts, the Mitsubishi Lancer Register (MLR) created a new World Record for the largest ever parade of EVOs.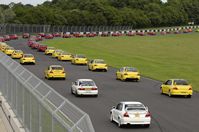 Despite the fact that less EVOs showed up than initially expected, the 273 Lancer Evolution cars that congregated in the paddock of the Castle Combe Racing Circuit in Wiltshire, England, were enough to earn them place in the Book of World Records. (enlarge photo)

On the day, 273 Lancer Evolutions congregated in the paddock, grouped together by colour.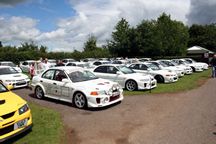 At 5:00 pm the cars started to be ushered onto the track to drive the required 2 miles of the circuit at a constant speed - in colour co-ordinated formation - making this a truly incredible sight. (enlarge photo)

Darin Frow, MLR Chairman said, "The World Record attempt came about after one of our members asked what had been the largest number of Evo's ever seen in one place? That was a year ago, and since then the idea has captured the imagination and enthusiasm of everyone within the MLR, and beyond."

Thanks to the generosity of the MLR members and Mitsubishi Motors UK, the event raised £7,459.27 ($15,000 or €9,400) for the Richard Burns Foundation.

The event was also supported by: SJS Design, Xtreme Sports Photography and RC Developments.

Wednesday, July 16, 2008