Sunday, October 16, 2011

Oldest woman to bungee jump: Frances Gabe sets world record (Video)

FRESNO, Calif., USA -- Frances Gabe celebrated the big Fresno Fair and her 91st birthday with a bungee jump; this is the seventh time she's bungeed at the fair - setting the new world record for the oldest woman to bungee jump, according to World Record Academy (www.worldrecordacademy.com).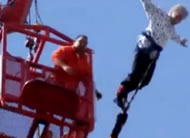 Photo: Frances drops from the sky for her seventh bungee jump. (enlarge photo)

The Guinness world record for the oldest person to bungee jump is Mohr Keet, who completed latest jump when he was 96 years old at Blaukrans Bungee CC, South Africa

Guinness World Records also recognized the world record for the most bungee jumps in 24 hours: 105 - achieved by Kevin Scott Huntly (South Africa) at the Bloukrans Bungy Bridge, Garden Route, South Africa.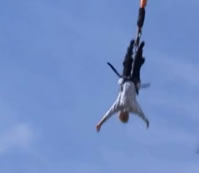 It's a tradition Frances Gabe began on her 82nd birthday after surviving colon cancer.

(enlarge photo)

Gabe said doing the jump is still very exciting for her, but now she gets a little nervous, because of the large crowds that gather to watch.

She recommends it to anyone who isn't afraid of heights. Gabe said she plans to do it again for her 92nd birthday.

Related world records:
Oldest bungee jumper: Mohr Keet

Oldest woman paraglider: Peggy McAlpine

Highest Blob Jump: Paintballfarm (HD Video)

First BMX triple Backflip: Jed Mildon (HD Video)

Longest ramp jump: Tanner Foust (HD Video)

Largest balloon cluster flight: National Geographic (Video)

Highest cable wire walk: Swiss acrobat Freddy Nock

Most bungee jumps in one hour: James Field

Highest bicycle ride: Nik Wallenda
Highest jump on roller skates: Taig Khris
Smallest Wingwalker: Kiran Shah
Oldest bungee jumper: Mohr Keet
Longest jump in a Harley-Davidson: Seth Enslow
Longest Jump in a Rally Car: Travis Pastrana
Youngest wing-walker: Tiger Brewer
Biggest skydiving formation: US skydivers
Oldest wing walker: Tom Lackey
Highest jump on a motorcycle: Ronnie Renner
Fastest jet-pack flight: Eric Scott
Highest motorcycle jump: Robbie Maddison
Highest Bicycle Ramp Jump: Timo Pritzel and Joscha Forstreuter
Fastest Text Messaging While Skydiving: Samsung Mobile
Back flip in a wheelchair: Aaron Fotheringham
Highest and longest bike-ride: Nick Wallenda
Most bungee jumps in 24 hours: Mike Heard
High-wire walking world record
Longest mid-air suspension: Dixie Dooley
Most roll-downs from aerial silks: Brandon Pereyda

Sunday, October 16, 2011