Saturday, July 28, 2012

Oldest Olympic Torch Bearer: Diana Gould sets world record (PICS & VIDEO)

LONDON, UK -- One-hundred-year-old Diana Gould, a former seamstress, carried the torch through north London, to Middlesex University, before handing it over to the mayor, Boris Johnson, after setting the new world record for the Oldest Olympic torch bearer, according to the World Record Academy: www.worldrecordacademy.com/.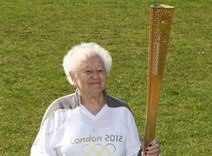 Photo: Diana Gould, 100, carried the Olympic flame to Middlesex University in Barnet on day 68 of the torch relay. The oldest torchbearer to take part in the London 2012 relay, Mrs Gould met the Mayor of London Boris Johnson before she took the flame into the university for a lunchtime break. (enlarge photo)

The Guinness world record for the largest torchlit parade was achieved by 3,690 participants of the Annual Freedom Celebration, "FFG Love Movement", organized by Freedom Faithnet Global (Indonesia) and held at Istora Senayan Stadium, Jakarta, Indonesia.

Guinness World Records also recognized the world record for the longest distance for an Olympic torch relay: 137,000 km (85,000 mi) for the XXIX Olympic Summer Games in Beijing, China.

"I think she did an amazing job. She didn't even use her stick - and she is 100. She carried the whole thing, all the way. And you saw the reception she got, absolutely incredible," he said after watching her.

The centanarian is no stranger to working out. She played badminton until she was 86, and continues to lead exercise classes for the elderly in her neighborhood, some younger than she is. Gould was nominated by her granddaughter Alexandra, The Telegraph reports, "because of her life-long commitment to sport."

Gould said the walk had not been too difficult. "The sun was a bit hot, but the walk was fine. Absolutely. I used to live in Hendon, so I knew where I was walking. Fine."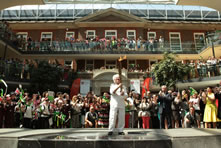 Photo: Torchbearer Diana Gould, who is 100 years old, holds the Olympic Flame at Middlesex University in London. AP photo. (enlarge photo)

Diana Gould was one of the 7,300 torchbearers selected via nomination for their achievements or contributions to their communities -- the remaining 700 are composed of celebrities and athletes.

The torchbearer was born in 1912 in the same month that the Stockholm Games started. She runs exercise classes in the retirement flats where she lives and three times a week sits with a group of friends stretching, reaching and bending to stay flexible and healthy.

Ms Gould practiced for her 300-yard stretch of the torch relay by carrying a candlestick around the corridors of her nursing home.

After a lunchtime break, actor Rupert Grint took over the flame. Grint is best known for his role as Ron Weasley in the Harry Potter films.

What's next for Gould? "I'll be watching lots of the Olympics on the television, I'm really looking forward to it –- and at my age you have to take every day as it comes, every day is a bonus," she told The Guardian earlier this month.

Related world records:
Oldest triathlete: Arthur Gilbert

Oldest marathon runner: Fauja Singh (Video)

Oldest female marathon finisher: Gladys Burrill

Oldest Olympic women's marathon winner: Constantina Dita

Oldest Gymnast: 86-year-old Johanna Quaas sets world record (Video)

Oldest yoga teacher: 89-year-old Gladys Morris

Oldest professional sharpshooter: Chandro Tomar sets world record

Oldest Yoga Teacher: Bernice Mary Bates sets world record

Most People Bouncing Tennis Balls: New York Kids set world record (HD Video)

Most ollies on a snowskate board: Eric Carlin

Largest circle training session: 'We Promote Health'

Oldest active boxer: Stephen Ward (Video)

Oldest competitive female bodybuilder: Ernestine Shepherd (Video)

Oldest person to reach the top of Mt Kilimanjaro - George Solt

Oldest Everest climber - Bahadur Sherchan

Oldest competing bodybuilder-world record set by Ray Moon

Saturday, July 28, 2012 3:28 PM