Tuesday, December 20, 2011

Most skydives by an 80-year-old in one day: Pat Moorehead sets world record (Video)

Lake Elsinore, CA, USA -- Pat Moorehead celebrates his 80th birthday by making 80 skydives in one day at Skydive Elsinore in Lake Elsinore, California, while raising funds for the National Skydiving Museum - setting the new world record for the Most skydives by an 80-year-old in one day, according to World Record Academy (www.worldrecordacademy.com).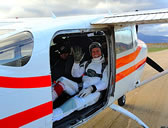 Photo: Pat Moorehead readies for takeoff at Skydive Elsinore. Photo: Toni McAllister
(enlarge photo)

The Guinness world record for the Largest flag flown while skydidving (parachute jump) was set by Gazali Peltek (Turkey), who flew a Turkish flag measuring 531.2 m² (5,717.9 ft²) whilst parachuting over the military base in Kayseri, Turkey.

Guinness World Records also recognized the world record for the fastest time to complete a skydive on six continents: 8 days 7 hr 30 min, achieved by Martin Downs (UK).

"He had a lot of energy when he finished – there were no mishaps. It was perfect," said Nancy Gruttman-Tyler, a retired skydiver who witnessed today's record-breaker.

To help get his "Team 80" event off the ground, Pat enlisted the help of "Most Jumps" world record holder Jay Stokes to coordinate the big day and with Dave DeWolfe manning the packing tent, Pat set out to make 80 jumps on his birthday flying his Spectre canopies.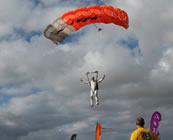 (enlarge photo)

Moorehead actually jumped 81 times. After he broke the record, he went up one last time to fly the American flag.

The feat took a little over 6 ½ hours and was not without careful planning, including support from his wife, and volunteer help from about 50 friends who stepped up as riggers, cameramen, a pilot, and a doctor on standby.

Equipment and an airplane were also on loan for the birthday celebration, and an international contingency of skydivers wished him well from all corners of the globe.

"You don't stop skydiving because you get old. You've got to keep moving," he said.

Related world records:
Oldest world records

Most parachute jumps: Don Kellnerm (Video)

Oldest tandem skydiving jumper: Fred Mack (Video)

Highest base jump: Nasr Al Niyadi and Omar Al Hegelan

Largest women's head-down freefly formation: 41 female skydivers set world record

Most tamdem loops in one jump: Pal Takats and Gabor Kezi

Most vertical metres skied: Oliver Kern

Highest Skydive Landing: Jai Kishan, Wendy Smith and Tom Noonan

Highest parachute landing: world record set near Mount Everest

Oldest wing walker: Tom Lackey



Largest all-female skydiving formation: 181 skydivers

Largest Diamond formation: 100 skydivers

Largest Freefalling Sky Dive Cross In The World


Biggest skydiving formation: US skydivers







Most bungee jumps in 24 hours: Mike Heard

Tuesday, December 20, 2011