Most sky lifts-world record set by Christian Flühr and Sylvie Maier

[March 10] Allgäu, Germany-- The World Record in the Allgäu succeeded. Christian Flühr (34, www.cf-1.net, SC Pallas Berlin) and Sylvie Maier (19, www.SnowAngel.de.ms) achieved a precision landing with completing 60 different lifts within one day in the Oberallgäu.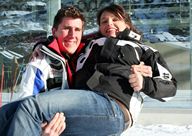 The start of THE Race Across THE Allgäu was on Tuesday, 26th of February, at six o'clock in the early morning at Riedberger Horn and ended almost 13 hours later in Germany's highest locality, the Oberjoch.
(enlarge photo)

On their way through the skiing areas of the Allgäu the athletes stopped over in ten stations between Söllereck and Grünten Station.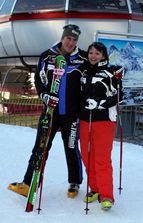 The longest distance to go between two skiing areas was the way from Ofterschwang to the Grüntenlifte, Rettenberg.

(enlarge photo)


Also the Tyrolean enclave in the Allgäu, Jungholz, was a setting of the felicitous World Record attempt.

At eight o'clock in the afternoon in the valley station Herbert John, president of the Allgäu ski association, handed out the certificate for the new world record. 'Everybody is very glad the World Record worked like a charm and we are sure the extraordinary idea of Christian Flühr contributes to advertise how perfect the skiing conditions are in the Allgäu.'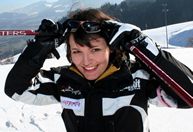 It was the first record for Sylvie Maier but already the 10th for Christian Flühr (in three different disciplines).
(enlarge photo)




Links:
Sylvie Maier's website: http://www.snowangel.de.ms

Christian Flühr's website: http://www.cf-1.net