Longest table tennis rally world record set by Andrea Holt


[June 8] MANCHESTER, UK--Double Olympian Andrea Holt broke the world record for the longest table tennis rally on Wednesday at Manchester Airport.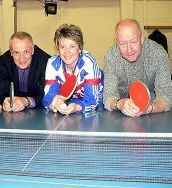 Photo:
Andrea Holt (middle), who competed for Britain in the 1992 Barcelona and 1996 Atlanta Olympics, help the launch of "Not A Game For Boys", directed by Simon Pittman.
The record attempt was part of the launch of Finnair's fastest flight connections to Asia from Manchester. Andrea was joined by current England number two Alex Perry and fellow player Mark Roscaleer.

The rally started at 8.57am and ended in triumph at 5.24pm, having played continuously for a total of eight hours and twenty-seven minutes. The new record is up to 12 minutes longer than the old record.

"Being able to go down in the record books for the longest table tennis rally is a fantastic success. Someone could have travelled from Helsinki to Beijing or Mumbai in the time it took the players to finish! I congratulate the amazing achievement made by Andrea, Alex and Mark," said President and CEO Jukka Hienonen after the event.

Finnair Asian destinations include Beijing, Shanghai, Guangzhou, Hong Kong, Tokyo, Osaka, Nagoya, Bangkok, Delhi, and Mumbai.