Hula hooping 10km new world record by Betty Hoops


[June 9] NEW YORK, NY--On Memorial Day, national Hoop Dance teacher, Betty Hoops, broke the World Record again. She hula hooped while running the entire Bolder Boulder 10K in Colorado.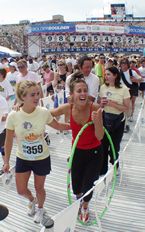 This is her 3rd year hoop running. Team Hoop fundraises money for different charities each year such as Lance Armstrong Foundation and the Cerebral Palsy of Westchester NY.

(click here to enlarge photo)

In 2005 Betty Hoops set the World Record for distance/speed hula hooping the 10K in 1hr 43min.
In 2006 she broke it by 18 minutes but the camera woman fell on her face in the first mile and they had no documentation for the Guinness Book to change her time.
Over Memorial Day, 2007, Betty Hoops broke her initial record coming in at 1hr. 36min. and 1 second.

"I'm just a Jewish girl from New York who got kicked out of a step aerobics class when I was 25." Hoops exclaims. Rhythmically challenged, she was determined to find an easy & inspiring way to stay healthy.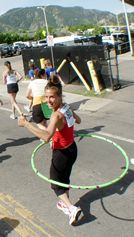 She left her job as a chef at Pinons, one of the best restaurants in Aspen, to hand mold adult hoops & teach classes. Consumer demand kept growing, so she devoted all her time to building a worldwide hoop business.

(click here to enlarge photo)

Hula Hoop workouts have been rated the hottest trend in America, says recent features in Vogue, ACE Fitness, Oprah, MSNBC and the View. Betty has been on the Caroline Rhea Show, Fox 5 News NY, LA Morning Show & ESPN.

Publications write about her ability to heal others through hoop such as; Aspen Peak Magazine, Santa Barbara Press, Vision Magazine and Vegetarian Times.

One of her students was even on The Late Show with David Letterman. He hoop/walked with an original Betty Hoop.

Betty Hoops Dance Therapy® was formed in 1998. She teaches her programs in schools, health clubs & yoga centers throughout the country.
(click here to enlarge photo)

In 2003 she contracted with Gaiam. Together they sell the Gaiam Dance Hoop Kit in Target & online.
This kit offers a collapsible/padded hoop for adults and a workout dvd based in yoga & sport training.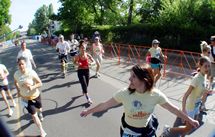 Hoops' resides in Aspen, CO where she teaches her fun based hoop workout to athletes.

(click to enlarge photo)

She is currently working on a documentary about finding health and peace through the hoop.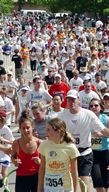 This will incorporate her race footage that Warren Miller Extreme Sports took, her hoop/snowboarding footage that ESPN took as well as footage from her classes that she has taught in New Orleans after hurricane Katrina, NYC after 9/11, as well as the adult Hoop Dance classes that she has taught and filmed around the country.

(click here to enlarge photo)

Betty Hoops will be hosting teacher trainings in NYC, DC and the UK this September. She will also be hosting a fundraising event for the Cerebral Palsy Foundation of Westchester NY in her hometown.


website: Betty Hoops website

Video:
Hula hooping 10km new world record by Betty Hoops