Highest jump on a BMX bike-world record set by Kevin Robinson

[June 13] NEW YORK, NY, USA--The iconic grounds of Central Park became the launching pad for BMX legend Kevin Robinson as he soared into the world record books by airing 54 feet off the ground -- equivalent to nearly a six story building -- breaking the world record for highest air on a BMX bike in the second-ever Red Bull Experiment.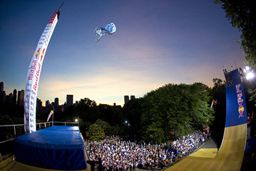 Photo: Kevin Robinson hurled himself down a 60 foot high roll-in at speeds over 45 mph, up a 27 foot Super Quarter Pipe and aired 27 feet above the ramp, against the back drop of the world-renowned New York City skyline. Photo courtesy Red Bull Photofiles (enlarge photo)

After nearly an hour and six attempts trying for the record, Kevin broke it by one inch, at 26.7 feet. Not feeling satisfied, he did another attempt to increase the record by another five inches.

"There is no better feeling than setting a goal and accomplishing it, no matter what adversity you have to face. You persevere through and you will come out successful," said Kevin after friends and family celebrated with him on the ramp.

Kevin Robinson, the winner of seven X Games medals, including three gold, made his attempt on a never before built Super Quarter Pipe. This feat was experimental in many ways -- from the construction of the ramp, to the speed it took to break the record, the g-forces on his body and ultimately the never before reached height on a BMX bike.

A crowd of thousands and Red Bull athletes, including fellow world record holder Simon Dumont and 2008 Olympic team member Jill Kintner, supported Kevin Robinson as sports history was made. Also in attendance were New England Patriots Wes Welker and Lonnie Paxton and surprise guest late night talk show host David Letterman, where Kevin is due to appear on Monday, June 16th.

A BMX legend, Kevin Robinson is one of only a few athletes that has competed in every X Games since the inaugural event in 1995 and since then has grown into one of the most respected action sports stars of his generation. There has been no more deserving winner of the "Most Outstanding Athlete" award than Kevin in 2007.
A committed family man with two kids, Kevin trains as hard as any elite athlete in the world and even works out with football star Junior Seau. He also sits on the board of Junior's charity foundation. It is Kevin's confidence, hard work and dedication that allow him to accomplish a feat such as this.

Is he crazy?
"People say that all the time. 'Oh, you got to be crazy,' " he said before a riding session at Camp Woodward, the action sports facility in rural central Pennsylvania. "It's not like that at all. I've been doing this for 25 years."

OK then, is he scared?
"If it's something new, then yeah, I'm scared. I'm not deathly afraid . . . but I also have the confidence in what I'm doing. I've been doing this long enough. I trust my skill level."

Why do it?
"I'm doing this for my personal goal," said Robinson, muscles rippling under his T-shirt. "For me it's always about new ways to challenge myself."

Mat Hoffman, Robinson's bike sponsor and mentor, set the previous Guinness Book of World Records mark in 2004 by soaring 26 1/2 feet above the top of a 24-foot ramp.

Video: Kevin Robinson sets BMX World Record:27 FEET!