Tuesday, April 17, 2012

Oldest Supermodel: 83-Year-Old Daphne Selfe sets world record (PICS)

LONDON, UK--British beauty Daphne Selfe, 83, is still walking catwalks, starring in campaigns and hasn't indulged in any cosmetic enhancements , setting the world record for the Oldest Supermodel, according to the World Record Academy: www.worldrecordacademy.com/.


Photo: Daphne Selfe, The World's Oldest Supermodel.
(enlarge photo)

The Guinness world record for the tallest professional model was set by Amazon Eve (USA), who is 201.66 cm (6 ft 7.39 in) tall as measured in Beverly Hills, Californis, USA.

Guinness World Records also recognized the world record for the oldest Playboy model, sert by Patricia Paay (Netherlands, b. 7 April 1949) who posed for the Christmas edition of Playboy Netherlands.

'I've never had anything done to my face,' Daphne says, pulling it this way and that. 'Not that poison, not a facelift. I think it's a waste of money. Anyway, I couldn't afford it!'

Daphne grew up in Berkshire, the daughter of a teacher, and was packed off to boarding school at eight. At the age of 20, working as a 'shop girl in coats' in a Reading department store, she entered a local newspaper's modelling competition and won.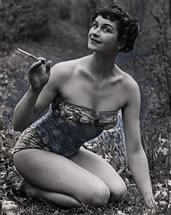 (enlarge photo)

"I'd been told I was nice looking a couple of times," but was never considered beautiful, she says. "I then started working steadily, it was wonderful."

'I think it's partly down to good genes. My mother was a livewire, she lived until she was 95. I've never really bothered with skin cream or anything like that, although I might use a bit of Boots. I hate anything you can't take the top off and dig around for what's left in the bottom.

'I did dye my hair at home for a while when I started to go grey in my early 40s. Occasionally, I would go into L'Oreal as a guinea pig, but it became too much of a bother.

'My hair is long now because it's cheaper, I don't have to do anything, but put it in a topknot or a French pleat. It avoids that old lady permed look, lengthens the neck and lifts the face. I've got so many friends who don't touch the make-up pot. You should keep looking nice, it makes you feel so much better.'

'I'm going to a meeting later about saving our local church, and I'm off to France next week to see the village that is twinned with the one where I live in Hertfordshire. I garden, I walk a lot and I do yoga — my version of yoga, I don't have time for classes.

'I can email! I've always worked, too, bits and pieces, right up until when my husband became very ill.'

'I think it's important to remain passionate about things.'

Related world records:
Richest Model: Kathy Ireland (HD Video)

Tallest Bikini Model: Amazon Eve

Richest Model: Kathy Ireland sets world record (HD Video)

Most heads dyed in 24-hours: Damien Bennett sets world record (Video)

Most underwear worn at one time: Janine Keblish sets world record

Most T-shirts worn at once: Andy Coyne sets world record

Most diamonds set in one ring: Lobortas Classic Jewelry House sets world record

First Million Dollar Fragrance Bottle: DKNY set world record (Video)

Longest tattoo session: Robin H.M. and Jeff Garton (Video)

First bacon-scented perfume: Fargginay Inc. (HD Video)

Most cosmetic procedures: Cindy Jackson (Video)

Most Expensive Nail Polish: Gold Rush Couture by Models Own

Most Beautiful Woman: Miss USA Alexandria Mills

Fastest relay race in stiletto heels: Australian women

Longest Catwalk: The Copenhagen Fashion Week

Most Expensive Diamond Tattoo: jeweler Yair Shimansky

Most lipstick applications: Estée Lauder

Tuesday, April 17, 2012 8:36 AM