Wednesday, December 28, 2011

Most Charitable Nation: USA sets world record (Video)

WASHINGTON, DC, USA -- The Charities and Aid Foundation's second annual World Giving Index (the largest study into charitable behaviour across the globe involving 153 countries in total) found that despite economic turmoil, Americans help those in need more than any other country - and sets the new world record for the Most Charitable Nation, according to World Record Academy (www.worldrecordacademy.com).


Photo: Dona, Matt, left, and Bryce Bremser, of Omaha, Neb. are among the people whose Kmart shopping balances have been paid by anonymous donors referred to as "layaway angels. Photo: Dave Weaver/AP (enlarge photo)

The Guinness world record for the most prosthetics donated by a single organisation was 664 artificial legs, donated and fitted by The Protheses Foundation (Thailand) in Sanamluang, Bangkok, Thailand.

Guinness World Records also recognized the world record for the most blood donated (apheresis), set by Richard Burke (USA), who donated his 1,411th unit of blood on his 1,193rd blood donation visit made on 4 June 2004. This is equivalent of 634.95 litres (139.6 gal/167.73 US gal).

Nearly two-thirds of Americans said they had donated money to charity, more than 40% volunteered their time, and close to three-fourths said they had helped a stranger. The country improved in all three measurements over the past year.

The spreading phenomenon of this holiday season is the "layaway angel," with people showing up at Kmart stores to pay off the shopping balances of needy strangers. As the Charities Aid Foundation poll found, Americans are particularly likely to help strangers, and these acts of kindness belie the country's "every man for himself" reputation.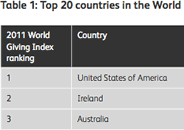 (enlarge photo)

This is the second edition of the "World Giving Index", the largest study into charitable behaviour across the globe involving 153 countries in total.

Using data from Gallup's Worldview World Poll, the report is based on three measures of giving behaviour - giving money, volunteering time and helping a stranger.

The results show that the USA is officially the most charitable nation in the world, moving from fifth place last year to first place this year. Ireland is the second most charitable country and Australia the third.

The list of the World Giving Index top 20 countries, shows that the USA is now measured as being the most charitable country globally, with a World Giving Index score of 60%.

This is the first time that any country has reached a score of 60%.

Related world records:


Wednesday, December 28, 2011