Thursday, February 19, 2015

Most bridal bouquets caught: Jamie Jackson breaks Guinness World Records record (VIDEO)

SALT LAKE CITY, UT, USA -- A Utah woman says she has smashed the Guinness World Records world record for catching bridal bouquets at weddings and now is seeking recognition for it; Salt Lake City's Jamie Jackson has caught 46 bouquets since 1996 and has the documentation to prove it, setting the new world record for the Most bridal bouquets caught, according to the World Record Academy: www.worldrecordacademy.com/.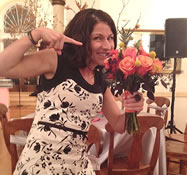 Photo: Jamie Jackson at Nichole Keddington's October 2013 wedding. Jamie Jackson is a personal trainer and a professional bridal bouquet catcher. She has caught so many bouquets that she is now trying to claim a World Record for most bridal bouquets caught. The 37-year-old Salt Lake City, Utah, woman has been to more than 80 weddings, catching the bridal bouquet a record 46 times, edging out other single women in the room like a defensive back intercepting a touchdown pas. All Photos - courtesy: Jamie Jackson (enlarge photo)

The Guinness World Records' record for the Most bridal bouquets caught was set by Stephanie Monyak, a registered nurse from Pennsylvania, USA, who has caught a total of 11 bridal bouquets that were tossed at weddings she has attended since 1983.

Guinness World Records also recognized the world record for the longest bridal wedding veil; it is 4,686 m (15,373 ft 11.82 in) long, and was made by Rozana Hospitality (UAE), it was presented at the opening of the Perfect Wedding Show, at Sharjah Expo Center, in Sharjah, UAE, on 6 March 2014.

Jackson said she has attended as many as 100 weddings over the years because of her family's connections to musical theater and their church. She jokes that what started out as a hobby has turned into "her sport."

"It is something that you have to plan for and you have to be very strategic where you place yourself," she told KSL.
"My strategy is to be right up in the front because a lot of time the brides don't know how far they are going to throw it.
"A lot of times it will hit a ceiling, it'll hit a chandelier ... I've had many, many catches where I've had to jump for it. And I've hit little kids by accident."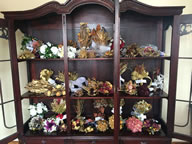 Photo: Jamie Jackson's bouquets (enlarge photo)

She said she was happy to learn 44 of the 46 brides were still married. "I consider myself a good luck charm," she said.

Jackson has dispelled the myth that a woman who catches a bouquet will be the next to get married. She said some people joke that she's purposely staying single to catch more bouquets, but she assures them that is not the case. "It's just been a fun process over the years," she said.

Related world records:
Most bridesmaids for a bride: Sri Lankan couple breaks Guinness World Records' record (VIDEO)

Highest Altitude Wedding: Fiji Airways breaks Guinness world record (VIDEO)

Most people in wedding dresses: Northern Ireland brides smash Guinness world record (VIDEO)

Highest speed date: Expedia breaks Guinness world record (VIDEO)

Longest Kiss: Thai Couple breaks Guinness world record (VIDEO)

Largest speed mixer event: Singapore breaks Guinness world record

Most bridesmaids at a wedding: Bangkok wedding sets world record (VIDEO)

Most Expensive Pet Wedding: NYC Dog wedding sets world record (VIDEO)

First all-diamond ring: Shawish Jewellery sets world record (Video)

Oldest bride and groom: California couple sets world record (Video)

Largest vow renewal party: John and Kimberly Dilosa sets world record

Oldest groom: Hazi Abdul Noor

Most wedding vows renewals: Mark and Denise Duffield-Thomas

Most expensive display wedding cake: Dallas Bridal Show

Most Expensive Bride: Deven Trabosh

Longest wedding dress: Ling Rong

Fastest update of relationship status: Dana Hanna and Tracy Page

Longest wedding dress: Ling Rong

Most weddings in a single day: China

Largest Bride Parade: Bucharest

Most married woman: Linda Wolfe

Longest marriage for a living couple: Herbert and Zelmyra Fisher