Friday, April 1, 2011

Longest Crowd Surfing: DJ Giel Beelen sets world record (Video)

HILVERSUM, Holland -- Dutch DJ Michiel Antonius Adrianus Beelen, better known as Giel Beelen, spent two hours, three minutes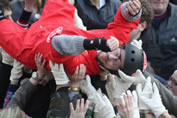 and 30 seconds passed overhead from person to person - setting the new world record for the longest crowd surfing.

(enlarge photo)

The Guinness world record for the Loudest scream by a crowd was set by a group of Scouts (all Finland), which was measured to reach a level of 127.2 dBA, in the grounds of Toivala's Metsäkoulu, Siilinjärvi, Finland.

Guinness World Records also recognized the loudest scream by a crowd (indoors): 131.6 dBA, achieved by the audience of FAMA's concert at Hong Kong International Trade & Exhibition Centre in Hong Kong, China.

DJ Giel Beelen was helped by 250 people in Hilversum, Netherlands.

Speaking after the event Giel said: 'It sounds easy but I'm completely drained.

Every couple of minutes you're getting jabbed in the ribs or worse and your head bobs around like it's on a spring.'

He managed to raise £20,000 for charity.

Related world records:
Longest dance marathon: Steve Stevens (HD Video)

Most breast augmentation surgeries performed: Ted Eisenberg (Video)

Most snow angels made simultaneously: Nova Scotia (Videos)

First Beatles Masters Degree: Mary Kennedy

Longest Handshake: Team New Zealand and Team Nepal

Longest Name: Barnaby Marmaduke

Longest dance marathon: Kalamandalam Hemletha

Listening To The Same Song: Emil Ilic

Largest Operational Agricultural Plow: Manitoba Agricultural Museum

Longest Solo Handbell Marathon: Captain Ken Chapman

Longest Time Spinning Pillow On Finger: Derek Brown

Longest time survived underground after a mining accident: Chile miners

Lowest limbo by a woman: Shemika Charles

Friday, April 1, 2011