Monday, February 21, 2011

Biggest family: Ziona Chana has 39 wifes and 94 children: a world record (Video)

BAKTWANG, India -- The head of the family and leader of the "Chana" sect -- which allows polygamy -- is 66-year-old Ziona Chana who is the 'proud' head of a jumbo sized family of 39 wives, 94 children, 14-daughters-in-laws and 33 grandchildren , setting the world record for the Biggest family.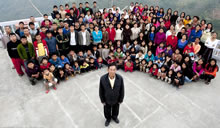 Photo: The World's Biggest Family. All photos Richard Grange.
(enlarge photo)
Chana thanks God for giving him a huge family to look after and considers himself 'lucky.'

The Guinness World Record for the largest family reunion is 2,585 and was achieved by the Lilly family at Flat Top, West Virginia, USA.

Guinness World Records also recognized The largest underwater wedding, achieved by 261 divers who took part at the marriage ceremony between Francesca Colombi and Giampiero Giannoccaro (both Italy).

To accommodate his huge family he has constructed a 100-room, four storey building in Baktwang village. It almost looks like a hotel.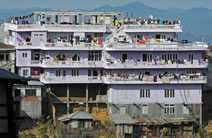 Photo: He lives with his family in a 100-room, four-storyed house named 'Chhuan That Run' or the House of the New Generation- in the hills of Baktawng village, in the Indian state of Mizoram.
(enlarge photo)

All the men of the family work as carpenters and Ziona says proudly: "We don't want any help from the government."

He sleeps in his own double-bedded room while his wives have to adjust in dormitories. The younger wives stay in rooms closer to his room.

During the day he likes to have seven or eight wives with him all the time to wait on him hand and foot.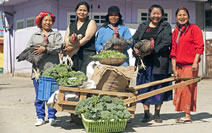 Photo: Meal times are like feeding an army, with the women of the family spending hours making dinner.

(enlarge photo)

A typical meal can see them plucking 30 chickens, peeling 132lb of spuds and boiling up 220lb of rice.

All the cooking is done over an open fire kept burning throughout the day. Ziona's eldest wife Zathiangi, 69, delegates all the daily duties around the house to his other wives, their daughters and the daughters-in-law.

Every day there is a mountain of washing to get through - all done by hand.

And how often does a wife get to sleep with Chana? – A 'rotation system' is maintained, he says.

Surprisingly, all the wives get along very well and there is hardly any infighting among them.

One of her co-wives, Huntharn-ghaki, insists all of Ziona's brides get along.

She says: "If a family system is laid on the founding stone of mutual and genuine love and respect for each and every member, then the system is guaranteed to be a success."

Mr Chana is not finished yet. "To expand my family, I am willing to go even to the United States to marry" he proudly says.

Subscribe to our free RSS News feed to receive updates.
Related world records:
Longest Name: Barnaby Marmaduke

Biggest family tree: Roy Blackmore

Longest marriage for a living couple: Herbert and Zelmyra Fisher

Most wedding vows renewals: Mark and Denise Duffield-Thomas

Most expensive display wedding cake: Dallas Bridal Show

Most Expensive Bride: Deven Trabosh

Longest wedding dress: Ling Rong

Fastest update of relationship status: Dana Hanna and Tracy Page

Longest wedding dress: Ling Rong

Most weddings in a single day: China

Largest Bride Parade: Bucharest

Most married woman: Linda Wolfe

Longest marriage for a living couple: Herbert and Zelmyra Fisher

Longest Love Poem: 'The Evening Star'

Largest wedding vows renewal: Pittsburg

Largest Wedding Vow Renewal: Bucharest

Oldest couple to divorce: Bertie and Jessie Wood

Monday, February 21, 2011