Friday, February 26, 2016

'Mighty Little Man' receives '2016 Pet of the Year' Award from World Record Academy (VIDEO)

MADISON, AL, USA -- 'Mighty Little Man', a male domestic housecat, (owner Jonny Payne), survived a combined total of eighteen events and ailments, over half of which were life-threatening, during his thirteen year life-span.

He has three world records from WRA, is the namesake of proposed legislation in the USA known as "Little Man's Law," and is an inspiration to us all.

World Record Academy has chosen 'Little Man' as the receiver of the '2016 Pet The Year' Award for his exceptional accomplishments.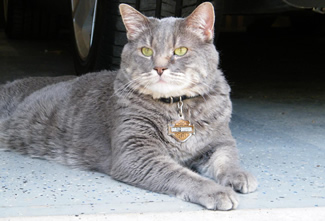 Photo: Triple World record holder 'Little Man' receives '2016 Pet of the Year' Award from the World Record Academy. Photo Courtesy: Jonathon Scott Payne (enlarge photo)

The Guinness World Records world record for the loudest purr by a domestic cat is 67.8 db(A) and was achieved by Merlin, owned by Tracy Westwood (UK), at her home in Torquay, Devon, UK, on 2 April 2015.

Guinness World Records also recognized the world record for the longest fur on a cat; it is 25.68 cm (10.11 in) and belongs to Sophie Smith, owned by Jami Smith (USA), as measured in Oceanside, California, USA, on 09 November 2013.

Little Man's owner, Jonny Payne, said, "One of the most incredible things about 'Little Man' was that he didn't act like he was sick. He met me at the door every day, cuddled, always had a great appetite, and NEVER misbehaved.
"In fact, right up to the very end he still played like a kitten and came to me every night to toss plastic rings to him. His veterinarian referred to him as 'one seriously tough kitty.' A fighter to the very end, he truly was the 'Mighty Little Man.'"

Payne, an engineer who lives in Madison, Ala., is also a former test pilot for the U.S. Air Force.
In "Mighty Little Man," he chronicles the joyful obsessions that have marked his life: Cats, flying, muscle cars, GI Joe action figures, Harley Davidsons, space travel.

Payne currently works as an engineer for the U.S. Army at Redstone Arsenal. His wife Caroline manages Rocket Harley-Davidson. Their children are Jonathon II, Brandon, Lauren and Matthew.

Link:
Our pets are dying from illegal pet food ingredients! We need "Little Man's Law!"

For more information, visit mightylittleman.com or Facebook/Mighty Little Man.

About WRA's 'Pet of The Year' Award
This award will show our appreciation for the furry and feathered friends who perform incredible acts of kindness, bravery and loyalty.

Related world records:
Most Survivable Cat: 'Little Man' sets world record (VIDEO)

Longest Inflexible Object Swallowed and Passed Unassisted by a Housecat: 'Little Man' sets world record (VIDEO)

First Survivor of a Recorded Blood Potassium Level of Zero: 'Little Man' sets world record (VIDEO) s:




Largest mattress: Dolidol Maroc


Most people making heart-shaped hand gestures: Carrefour Belgium