Largest fresh water lake without an island: North Muskoka Lake sets world record
[April 28] SUNDRIDGE, ON, Canada -- Measuring approximately 7 km in length and 2.5 km in width, Lake Bernard, just north of the Muskoka Lakes district, has been deemed the "world's largest fresh water lake without an island by the World Record Academy.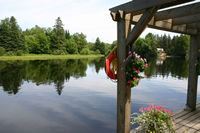 Photo:
Muskoka Guest Nest
(enlarge photo)

The popular Ontario vacation destination of Almaguin Highlands, located just 2-˝ hours north of Toronto, is home to a very unique lake.

Lake Bernard is large in comparison to the majority of Ontario's thousands of lakes.The fact that there are no islands on Lake Bernard is what sets it apart from other large lakes.

Another interesting characteristic of this lake is that it is not connected to any other lake.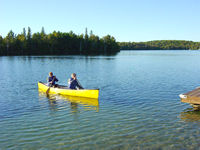 This is quite unusual for a lake of its size.

(enlarge photo)

Lake Bernard's lack of islands and the fact that it is not connected to any other lake is very curious since, just to the south, the Muskoka Lakes region is famous for its hundreds of lakes that are full of islands, and most of these lakes are interconnected.

Why this abnormality? Many suggest that the lake is the result of an ancient meteor strike. This explanation has not been conclusively proven however.

With an average depth of over 150 ft, and rumoured to be as deep as 400 ft in some spots, Lake Bernard's depth is also uncommon.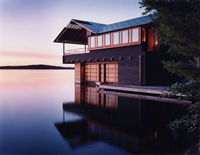 Photo: This boathouse is located on the southwest shore of Lake Muskoka, in a landscape that has been defined by the pre-Cambrian granite of the Canadian Shield, mythologized by the paintings of the Group of Seven, and adorned by pioneer log cabins, ornate Victorian cottages and custom wooden boats built by local craftsmen. Like Le Corbusier's rustic cabin in southern France and the Adirondack camps of upstate New York , the boathouse is a "sophisticated hut" in the wilderness. It has received The Governor General's Medal in Architecture in 2004. (enlarge photo)

A quiet lake with little motorboat traffic, Lake Bernard has remained sparsely developed with limited shore development, which has helped to keep its waters exceptionally clean. The lack of building around the lake and the fact that a minimum setback from the lake's edge is 66ft or 100ft where there is fish habitat present, means that the lake will remain in its beautiful natural state.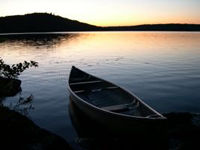 For area residents and vacations, Lake Bernard is much better known for its fabulous fishing than for its claim to fame as a geographic oddity.

(enlarge photo)

Lake trout and whitefish are plentiful due to Lake Bernard's large size and depth. Other species in the lake include bass and yellow perch.

In the winter, ice fishing is extremely popular. Surprisingly, Lake Bernard has great fishing and an abundant fish population inspite of the fact that it is not an artifically stocked lake. The Ministry of the Environment and Fisheries use Lake Bernard as an example of a sustainable natural fish habitat.

Michael & Brenda Piraino, owners of Lake Bernard's Northridge Inn & Resort, understand the importance of lake stewardship and do all that they can to protect the lake and to maintain their resort property in its beautiful natural wilderness state. "As well as having a recycling program and using eco-friendly products wherever possible, we encourage native plants and never use herbicides or pesticides. We have over 1450 feet of Lake Bernard shore line and we feel it is our duty to protect it for future generations," states Michael.

"Our guests return time and again to Northridge Inn and Lake Bernard because of the crystal clear water, the fresh clean air and the pristine wilderness setting. Some of our older guests tell us that Lake Bernard and the Almaguin Highlands remind them of what Muskoka use to be like, before it because overly developed," adds Brenda.