Wednesday, November 29, 2017

Heaviest kidney tumor removed: world record set in India (VIDEO)

MUMBAI, India--The team of doctors from the civic-run Sion Hospital led by Dr. Ajit Sawant, head of urology, successfully operated on Manju Devi, a 28-year-old woman from Bihar's Darbhanga district; it took a team of surgeons eight hours to remove the 12lbs 12oz. (5.5kg) tumour from her kidney, which sets the new world record for the Heaviest kidney tumor removed, according to the World Record Academy.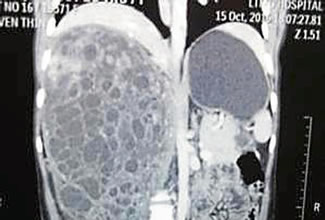 Photo: Doctors from the civic-run Sion Hospital have set a new world record by removing the heaviest kidney tumour documented in medical literature weighing 5.5kg. (enlarge photo)

The tumour was removed on November 2016 in an eight-hour long surgery performed by Dr Sawant, Dr Prakash Pawar and uroanesthetists Dr Geeta Patkar and Dr Aparna Nerurkar.

The patient was kept on ventilator for a day. She recovered completely in a week. Doctors said that Devi has returned to her normal life.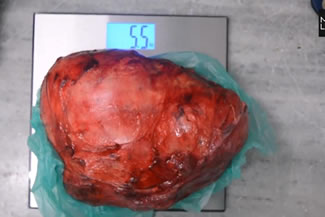 "The enormity of the surgery can be understood by comparing the weight of the kidney tumour—5.5kg—with that of a normal kidney, which is 110gm to 140gm," said Dr. Sawant. (enlarge photo)

Sawant said Manju, a resident of Darbhanga district, had come to the hospital with a painful abdominal lump and had been passing blood in urine for the three years.

"Her daily activities had come to a halt because of the huge mass in her stomach," said Sawant. She was referred to Sion Hospital after being turned down by multiple local hospitals, who deferred operating on her due to the size of the tumour.

Related world records:
Most medical board certifications: world record set by Dr. Hyun Joon Shin (VIDEO)

Longest tooth extracted: world record set by Jaimin Patel

Laparoscopic Ovarian Cancer Staging Surgery on the Largest Tumor: Arizona doctors set world record (VIDEO)

Longest interval between birth of twins: Irish twins break Guinness world record



Largest mattress: Dolidol Maroc


Longest playable stringed musical instrument: CapitaLand Singapore

Largest display of toy windmills: energis GmbH


Most People Waving Hands Simultaneously: AG Insurance