Thursday, December 22, 2011

Most people waving historical banners: St Antonius Nieuw-Dijk sets world record (Video)

Nieuw-Dijk, The Netherlands -- 1017 Banner wavers from the Netherlands, Germany, Belgium and Poland performed nearly synchronous the five minutes banner prayer on the three hectare large field at the Meisterholt in Nieuw-Dijk, during an event organized by The union of historic marksmen "Schutterij Sint Antonius , Nieuw-Dijk", setting the world record for the Most people waving historical banners, according to World Record Academy (www.worldrecordacademy.com).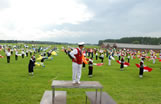 Photo: Banner master in action in front of all the banner wavers. Photo: Werner Bod
(enlarge photo)

The Guinness world record for the Longest banner was set by Rotary International PolioPlus India, which displayed a cloth banner measuring 50.4 km (31.3 miles) long and 1 metre (3.2ft) wide in Mumbai (Bombay), India.

Guinness World Records also recognized the world record for the most people twirling flags, set by 35,000 people and achieved by Coordinadora de Peñas de Valladolid in Plaza Zorilla, Valladolid, Spain.

The world record attempt happened at the marksmen's festival in Nieuw-Dijk close to Didam.
Also marksmen's unions from Ooy (Eendracht), Millingen aan de Rijn (OEV) en Groesbeek-De Horst (St Hubertus) were present with their delegates and participated in the world record event.

Before the banner waving event a joint parade through the village took place.

"Just now we realize how unique this event was" says Willem Kutschruiter, responsible for the public relations of the event.

"When we started 18 months ago, our goal was 750 banner wavers. Now there were in 1017. Fantastic! I am convinced that we could have a completely filled field with 1200 banner wavers if the weather would have been better".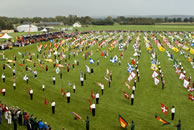 Photo: Overview of the site with the banner wavers. Photo: Mirjam
(enlarge photo)

With over thousand banner wavers from numerous historic marksmen guilds and unions from the Netherlands, Germany and Belgium provided a colorful display.

Especially from the embankment along the field it could be viewed magnificently. Although it is nearly impossible with so many banner wavers to wave the banners synchronized the participants passed with flying colors.

This tradition is unique for the marksmen guilds and unions in the provinces Gelderland and Noord Brabant. This is called historical banner waving in Gelderland.
The different banner movements depict the fight between good and evil. The waving of the banner is considered as a combat experience.

The marksmen honor in this way the marksmen's kings, church dignitaries and high officials of state. The movements, seamlessly followed by the banner carried by the wind are a sign of awe and esteem.


Related world records:
Largest indoor flag-the Romanian flag displayed at Aarhus WC

Largest Free-Flying American Flag: George Washington Bridge's Flag

Largest US Flag-The Superflag: Thomas "Ski" Demski

Largest flag made out of coins-world record set by Jin Jeong-gun

Largest flag made out of mineral water bottles-world record set by MVFRA

Largest flag made out of beads-world record set by Jeyaraman Ravi

Most flags flown on a Bridge-world record set by BridgeClimb Sydney

Largest aerial banner -world record set by Falcon Aviation Services


Thursday, December 22, 2011