Tuesday, August 16, 2011

Most people to shower simultaneously: Lynx set world record (HD Video)

Bournemouth beach, UK -- Organised by Lynx as part of a national campaign to encourage more sociable showering in the UK, 152 people simultaneously washed under a giant six metre shower despite the chilly conditions - setting the new world record for Most people showering simultaneously (single venue).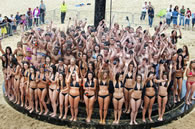 (enlarge photo)

The previous Guinness world record for the
Most people showering simultaneously at a single venue was achieved by 145 participants in an event organised by Pert Plus at the Six Flags Great America and Hurricane Harbor in Gurnee, Illinois, USA.

Guinness World Records also recognized the world record for the largest shower measured 30.48 m (100 ft) long, 12.19 m (40 ft) wide, and 3.04 m (10 ft) tall and was manufactured by PertPlus in conjunction with the Chicago firefighters (all USA) at Six Flags Great America and Hurricane Harbour in Gurnee, USA.

Temperatures rose as 152 Brits flocked to Bournemouth Beach and lathered up under the giant Lynx Shower, towering over them at a huge 6 metre ­ beating the previous world record of 145 people.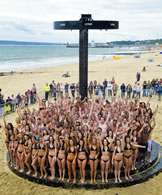 It was not only local people who took part in the world record attempt, some had travelled to the town to be part of the social shower.

(enlarge photo)

"The people of Bournemouth have to be applauded for getting into the spirit of the day and taking a shower together," the Daily Mail quoted Anna Orford, the official adjudicator for Guinness World Records, as saying.

As part of a campaign to promote the new Lynx Shower Gel range, festival goers will also be able to enjoy what Lynx call 'the ultimate shower experience' including music from top DJs, when it goes on tour to V Festival at Hylands Park on 20th and 21st August.

Related world records:
Most people bouncing beach balls: Cedar Point (Video)

Most people showering simultaneously: Dickson City

Most people on space hoppers: Yorkshire (Video)

Most people floating on noodles: Lake Lotawana (Video)

Longest chain of people licking ice cream: Morelli ice cream (Video)

Most people modeling on a catwalk: Express set world record

Most people husking corn: Knott's Berry Farm (Video)

Largest piggy back race: Dundee WestFest (HD Video)

Largest skinny dip: Britain's National Trust (HD Video)

Most Flashlights Lit Simultaneously: NASCAR Fans (Video)

Largest Zumba class: Clemson University (Video)

Most people standing on one leg simultaneously: Darien students

Most people carrying water jugs: Friends of World Vision (Video)

Most People Dyeing Eggs: Carowinds (Video)

Most people rolling tyres simultaneously: Merredin (Video)

Most people star jumping simultaneously: Boys & Girls Clubs (Video)

Most people arm wrestling: Staples High School

Most people apple bobbing: Ontario Apple Growers (Video)

Most multiple-birth children in a single class: Richardson school

Most Santas surfing at the same time: Surfing Santas

Most people simultaneously on a bed:NakedSleep.com

Most people spinning dreidels: Yeshiva University students

Largest Halloween Party: New Orleans Saints fans

Largest 'Chi-Kung Eight Brocade Coils' Exercise: Lifetree

Largest piggyback race: The History Maker Foundation

Most People Sanitizing Hands: Philadelphia Union fans

Most people stepping on grapes simultaneously: Labastida

Tuesday, August 16, 2011