Thursday, April 12, 2012

Most people participating in a lip dub: Perpignan sets world record (3D Video)

PERPIGNAN, France--7153 people danced and hopped in the streets of Perpignan to the rhythm of the song "Parlem català" by Joan Cayrol, going from the lodge to the Castellet and Victoria's square, central place of the city, during a city-wide Lip Dub organized by the northern Catalan society to support the future of county's own language - setting the new world record for the Most people participating in a lip dub, according to the World Record Academy: www.worldrecordacademy.com/.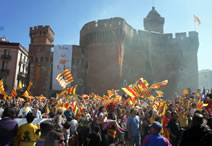 (enlarge photo)

The Guinness world record for the most people singing along to a karaoke video game is 10,490, achieved by the crowd at Los Premios 40 Principales, Palacio de Deportes de la Comunidad de Madrid, in Madrid, Spain.

Guinness World Records also recognized the world record for the largest singing lesson; it involved 6,651 participants and was achieved by Sweet Adelines International during the 63rd Annual Sweet Adelines International Convention and Competition in Nashville, Tennessee, USA.

The event received support from the whole of Catalan's northern society: cultural and sportive entities, the public and associative education sector, politics of right and left sides, storekeepers and entrepreneurs.

The new world record was done around the historic building of the Castellet, a symbol of Perpinyà's city, a symbol of catalanity, a symbol of resistance, since the Castellet is also the Casa Pairal, a place of encounter between Catalans during the period of dictatorship.

Perpignan, Catalan: Perpinyà, is a commune and the capital of the Pyrénées-Orientales department in southern France. Perpignan was the capital of the former province and county of Roussillon (Rosselló in Catalan) and continental capital of the Kingdom of Majorca in the 13th and 14th centuries. Perpignan was formally ceded by Spain in the Treaty of the Pyrenees (1659), and from then on remained a French possession.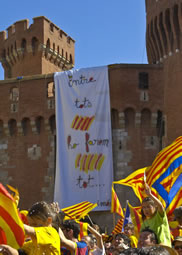 Photo: 7153 participants filled the street going from the lodge to the Castellet and Victoria's square, central place of the city.
(enlarge photo)

The lyrics of the song "Parlem català" were written by Joan Cayrol and popularized by Jordi Barre. Raph Dumas remixed it for the need of the event.

The 3D video (see below) shows a large panel of popular Catalan tradition: ballets of cercolets, of sticks, small horses, sardanes, bears of Vallespir, a catalan bark, castells, correfocs, tio tio,… but also the favorite sport of northern Catalunya: the rugby both of the games, XIII and XV, as well as a lot of people coming of immersive language schools, bilingual career or catalan education for adult people…

Photo Gallery: Most people in a Lipdub

The successful world record attempt was organized by organized by the Catalan federation with the support from the society and volunteers.

Related world records:
Largest High School LipDub: Piscataway High School sets world record (HD Video)

Largest LipDub video: The Grand Rapids LipDub (HD Video)

Most people participating in a lip dub: City of Vic

Most people participating in a lip dub (indoor): Grandville High School

Largest group of carol singers: UK singers sets world record (Video)

Largest shofar ensemble: Associated Hebrew Schools (Video)

Largest maracas ensemble: Ryerson University (HD Video)

Largest busk: Bondi Festival (Video)

Largest angklung ensemble: Washington DC (Video)

Most people whistling simultaneously: Nazareth students

Largest string ensemble: Hillsborough student musicians

Largest Kazoo Ensemble: BBC Radio 3's Red Nose Show(Video)

Most people singing and signing a song: 100000 schoolchildren

Largest Group of Carol singers: Credit Union Christmas Pageant

Most people singing the same song in different languages: Glasgow University

Largest Singing Lesson: Sweet Adelines International

Most participants blowing conch shells simultaneously: Sundowners Restaurant

Thursday, April 12, 2012 12:22 PM