Most people having foot massage-world record set by Taiwan

TAIPEI, Taiwan--Taiwan set a World Record by arranging for 1,008 people to have a foot massage simultaneously.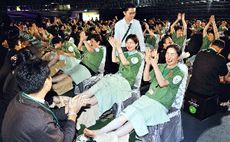 Photo: The participants, including hundreds of Japanese, South Korean and Hong Kong visitors, lay down on reclining chairs at the Taipei Area stadium for 40 minutes of foot massage, or reflexology treatment, given by 1,008 masseurs. (enlarge photo)

The event was organized by the Taiwan tourism bureau and four Taiwan reflexology associations.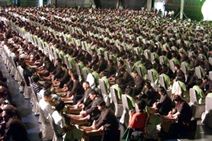 The years 2008 and 2009 had been designated as the "Tour Taiwan Years." The Tourism Bureau has been planning a wide variety of exciting events and popular tourist attractions to draw more international visitors to Taiwan, and one of its new ideas is health care tourism. (enlarge photo)

Tourists who volunteered for the event came from various countries, including Japan, Korea, Singapore, Malaysia and Hong Kong etc.

Foot massage is popular in Taiwan. In large cities in Taiwan, there are many foot massage parlours which charge 500 Taiwan dollars (15 US dollars) for 50 minutes of foot massage, which can relieve fatigue and has therapeutic effects for certain illnesses.

The previous world record stood at 200 reflexologists with the same number of tourists.

Photos: Huaxia

July 6, 2008