Saturday, September 8, 2012

Most people being massaged: Thailand breaks world record (VIDEO)

BANGKOK, Thailand -- During an event organized by the Ministry of Public Health to promote the Southeast Asian nation's massage and spa industry, 641 massage therapists mass-massaged 641 people simultaneously for 12 minutes, setting the new world record for the most people being massaged at one time, according to the World Record Academy: www.worldrecordacademy.com/.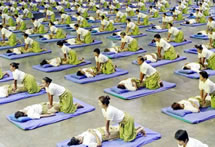 Photo: A total of 641 Thai masseuses simultaneously massaged 641 people head-to-toe for 12 minutes, breaking the previous Guinness world record for the most people being massaged at the same time. Photo: AFP (enlarge photo)

The previous Guinness world record for the most people being massaged at the same time was 263 in an event organised by Tourism Victoria, (Australia) at Lavandula Lavender Farm in the Daylesford region of Victoria, Australia.

Guinness World Records also recognized the world record for the longest massage chain: 1,223 - achieved by Have A Good Dream Co. Ltd and Thai Beverage Marketing Co. Ltd (both Thailand) at the Rama IX Park, Bangkok, Thailand.

The therapists more than doubled the previous Guinness world record — attained in Australia in 2010 — of 263 people being massaged at the same time for five minutes.

The world record attempt was the highlight of the opening ceremony of the three- day Thailand Medical Expo 2012, which showcases Thailand's readiness and ambition to be a leader of world class medical services.

Prime Minister Yingluck Shinawatra presided over the spectacle, and a senior representative from Guinness World Records was on hand to certify the feat.

"It was easy because this is what we do every day for a living," said 53-year-old Chayanan Chanwuttisawan, one of the mostly female masseuses who took part in the event.

"I'm proud of myself and my profession. I never thought we'd have a chance to be recognized like this."

A traditional massage lasts two hours. An abbreviated version was on display during this record attmpt as therapists, dressed in traditional garb, demonstrated their skills on a sea of thin sky blue mats spread across the floor.

To a soundtrack of dreamy music that included the sound of chirping crickets, they went through their repertoire with a series of massage positions choreographed by the tinkling of a bell.

Chayanan said the therapists who participated were given a video from the Ministry of Public Health to practice with.

They are part of an army that the Health Ministry estimates numbers 50,000 nationwide and an industry that generates at least 13 billion baht ($415 million) annually.

Health Minister Wittaya Buranasiri has said he wants to see the industry bring in even more revenue.

The National News Bureau of Thailand reported last week that the government "is aiming to make Thailand the world's ultimate destination for massage, with plans to improve the quality of the workers, offer more massage classes to the public and set up a massage center in every hospital."


Related world records:
Most people receiving a chair massage in 24 hours-Romano Sandee

Most nationalities on a theme park ride: Swedish theme park sets world record (PICS & VIDEO)

Most people contributing to the same manuscript: Orange Romania sets world record

Most people husking corn: Chilliwack residents breaks world record (VIDEO)

Most people sequentially firing muzzle-load arms: Catalunya sets world record (VIDEO)

Most people smoking electronic cigarettes in one place: V2 Cigs sets world record (HD Video)

Most people carrying bottles on their heads: Ohio schools set world record (PICS & VIDEO)

Most beach balls in the air: Legoland sets world record (PICS & VIDEO)

Most people firewalking: Eastbourne Scout Group sets world record

Most Children Smiling In a Photo: Romanian Child Helpline sets world record (Video)

Most simultaneous high-fives: Zappos.Com sets world record (Video)

Longest Handshake Chain: Habib Bank Limited (HBL) staff sets world record (Video)

Largest gathering of ITIL-Certified Professionals: Pink Elephant Conference set world record

Largest torch-lit parade: Indonesia sets world record (Video)

Largest human mattress dominoes: New Orleans sets world record (Video)

Most people knitting simultaneously: Taiwan

Most People Shaving with an Electric Shaver: 2000 men

Most people to write a story: Ireland students (Video)

Largest tree hug: Forestry Commission England (HD Video)

Longest kissing chain: Utah State University (Video)

Most people bouncing paddle balls: 356 paddleballers (Video)

Largest underwater wedding: Polish couple (Video)

Most people applying sunscreen: Cedar Point (Video)

Most People Planking Simultaneously: Hillcrest College set world record

Most twins and triplets in one class: Keller middle school

Most people to shower simultaneously: Lynx (HD Video)

Most people bouncing beach balls: Cedar Point (Video)

Most people showering simultaneously: Dickson City

Most people on space hoppers: Yorkshire (Video)

Most people floating on noodles: Lake Lotawana (Video)

Longest chain of people licking ice cream: Morelli ice cream (Video)

Most people modeling on a catwalk: Express set world record

Saturday, September 8, 2012 10:34 AM