Sunday, November 1, 2009

Largest Singing Lesson-world record set by Sweet Adelines International

Nashville, Tenn., USA -- During the 63rd Sweet Adelines International Convention held at the Sommet Center, 6,651 singers from around the world set the new world record for the Largest Singing Lesson.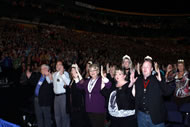 Photos taken by Lilley Photography (enlarge photo)

Eager for the opportunity to make history, Sweet Adelines members lined up to participate.
"The enthusiasm of Sweet Adelines International members and fans was instrumental in achieving this record," said Kelly Kirchhoff, Director of Communications for Sweet Adelines International. "Instructing thousands of participants simultaneously is an extremely impressive accomplishment."

Music professional and past Sweet Adelines International Quartet Champion Peggy Gram led the lesson by demonstrating inspiring techniques for integrating the voice into the art form.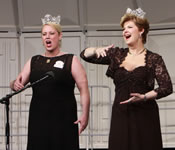 Photo: Jennifer Perry-Edwards and Peggy Gram (enlarge photo)

Gram called the experience of teaching the Largest Singing lesson exhilarating. "It was inspiring to demonstrate our unique style of music to thousands of singers from around the globe. While obtaining the world record is terrific, what's even more important is that it allowed us the opportunity to show how rewarding it is to sing barbershop harmony," said Gram after accepting the certificate for World's Largest Singing lesson.

Sweet Adelines members are women who excel in singing the unique musical art form of barbershop harmony.
The chorus includes women from ages 16 to the mid-70s, representing nurses, teachers, attorneys, students, retirees and others.

About Sweet Adelines International
Sweet Adelines International is a musical force in the United States and throughout the world. This nonprofit music education association is headquartered in Tulsa, Okla., where it was founded in 1945.
It is one of the world's largest singing organizations for women, committed to advancing the musical art form of barbershop harmony through education and performance.
The membership encompasses nearly 25,000 singers, 1,200 registered quartets and 600 choruses in most of the fifty United States, Australia, Canada, England, Finland, Germany, Ireland, Japan, New Zealand, Scotland, Sweden, The Netherlands and Wales.

Related world records:
Largest coffee party-world record set by Kruger

Most surfers on a single wave-world record set by Cape Town surfers

Most people running in stilettos-world record set in New York

Largest all-female skydiving formation-world record set by 181 skydivers

Longest massage chain-world record set by the National Young Volunteers Service

Largest Can-Can dance-world record set by Irn Bru

Most hammered dulcimers on stage-ODPC Funfest sets world record

Largest Plastic Duck Race-world record set by The Great British Duck Race

Sunday, November 1, 2009