Largest gathering of plush toys-world record set by Shawsheen students

[April 15] ANDOVER, MA, USA--Shawsheen Elementary students set a World Record for the largest gathering of plush toys ever recorded: 5,657stuffed animals were collected from kids.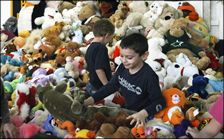 Photo: Matthew Pliskaner, an Andover Shawsheen School second-grader, grabs a stuffed animal for a photo shoot after the school's attempt to break a World Record for collecting the most stuffed animals. Photo by: Paul Bilodeau/ The Eagle Tribune
(enlarge photo)

"We did it," students screamed as they waved their hands in the air, high-fived, hugged each other and clapped.

"I've never seen so many all at once," said PALS Director Thomas Cone, a teacher at Phillips. "It's wonderful. This will help a lot of children."

Students and parents collected the plush toys in just under three weeks. People from all over the Merrimack Valley stopped at the school with trash bags full of Beanie Babies, teddy bears, Mickey Mouses, Scooby Doos, a 3-foot gorilla — every stuffed animal you can imagine.

Rachel Combs, a parent on the school's community services committee, came up with the idea when she saw a copy of her son's National Geographic Kids that showcased their Guinness victory.

It had taken National Geographic Kids magazine four months to set the record in December 2006, receiving toys from hundreds of readers from around the world — as far as Japan and the Czech Republic.

"It was electric," Combs said of watching the children's reactions to the mountain of stuffed animals. "I would have never foreseen this. ... They've been asking me if we broke the record every day."

Shawsheen students have been collecting stuffed animals every March for the past 12 years. They donate them to PALS, an after-school tutoring program that teams Phillips Academy and Andover High School students with middle-schoolers in Lawrence. The toys are used as prizes.

Some of the collection also will go to libraries, orphanages and hospitals in Belize, a small country south of Mexico.

"Wow. It's good we have the record," said second-grader Mary Kate Goodwin, 8. "But it's really nice that we got all these toys for the children who don't have toys."