Largest Freefalling Sky Dive Cross In The World
[May 22] LONDON, UK/ A visually stunning daredevil world record was set this weekend when 52 female skydivers, dressed in red jump suits, formed the globe's largest freefalling sky dive cross 10,000 feet in the air. The brave women took to the skies to fundraise for this year's Red Cross Appeal Week.


The elite female skydiving team, dubbed the 'Brit Chicks', set the record by literally linking together hands and feet to create the largest freefalling sky dive cross the world has ever seen, earning themselves a place in history.

(click here to enlarge photo)

The 52-person formation took place in the skies over Nottinghamshire at Langar Airfield.

Lesley Gale, leader of the Brit Chicks, comments: "This is an amazing achievement and we've waited a long time to make it happen. We saw a window in the weather and just went for it. The cross was formed on our third attempt and we held it for about 12 seconds. We're extremely proud to have been able to set a new world record for the British Red Cross."


The Brit Chicks, who when not jumping lead 'ordinary 9-5 lives', have spent the last four months practicing for the record breaking attempt.

(click here to enlarge photo)

Many of the practice jumps had to be aborted because of bad weather but the women battled on despite the British weather.

Leigh Daynes, Head of Media and Public Affairs at the British Red Cross, says: "This year's Red Cross Appeal Week was themed around our mission to 'mobilise the power of humanity so that no-one need face a crisis alone'. To achieve a record-breaking feat of this kind requires tremendous strength of spirit and team work. It can't be achieved alone.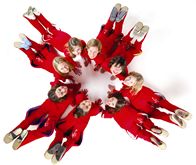 "We are thrilled that the 'Brit Chicks' have successfully achieved the seemingly impossible by creating the largest freefalling sky diving cross formation.

(click here to enlarge)

This unique celebration of the Red Cross will hopefully help us break all fundraising records for our Appeal Week. We'd like to thank the Brit Chicks, and the public, for their support.

To donate money to the British Red Cross, visit: http://www.redcross.org.uk


Source: British Red Cross