Oldest Woman-world record set by Maria Olivia da Silva

ASTORGA, Brazil -- Maria Olivia da Silva (born 28 February 1880) celebrated her 129th birthday last month-setting the world record for the Oldest Woman.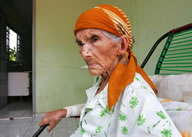 Photo: Maria Olivia da Silva, 125, poses for a portrait at her home in Astorga, in the Brazilian state of Parana. She was born on Feb. 28, 1880. / AP Photo: Maurilio Cheli
(enlarge photo)

She was born in Itapetininga, São Paulo and lives in Astorga, Paraná- South of Brasil.

She married twice and has 10 children. She also adopted 4 children. Today, she has a family tree of 400 people.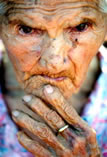 Her memory has not faded and she loves to talk. Da Silva lives with her 60-year-old adopted son, Aparecido H. Silva.

(enlarge photo)

She is at the same age with Cologne Cathedral in Germany in city of Cologne.

She says she eats rice, beans, and bananas every day, so she is still healthy.

Monday, March 16, 2009

Related world records:
Tallest Man-world record set by Leonid Stadnyk

Oldest living man with Down syndrome-world record set by Bert Holbrook

Oldest Mother-world record set by Omkari Panwar

Fastest Human Calculator-world record set by Alexis Lemaire

Strongest Ear-world record set by Lasha Pataraia

Most powerful Human Magnet-world record set by Aurel Raileanu

Smallest waist-world record set by Cathie Jung