Thursday, April 21, 2011

Oldest Living Man: 114-Year-Old Jiroemon Kimura sets world record (HD Video)

KYOTANGO, Japan -- Japanese citizen Jiroemon Kimura, turned 114 on Tuesday, celebrating the day away from the public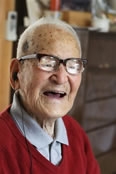 spotlight with his family near Kyoto - and setting the new world record for the Oldest Living Man.

Photo: The World's Oldest Man: Jirouemon Kimura. Photo: AP Photo/Kyotango City Office
(enlarge photo)

The previous Guinness world record for the Oldest Living Man was set by Walter Breuning of the United States, who was born 21 September 1896, who died April 14.

Guinness World Records also recognized the oldest person living (female): Besse Berry Brown (Tennessee USA, b. 26 August 1896).

"It is a great honour, and words alone cannot describe my feelings," Kimura told city officials in Kyotango, Kyoto prefecture, who congratulated him. "I take it as a sign from heaven and am deeply moved."

Jirouemon Kimura celebrated at home with a breakfast of grilled fish with steamed rice and red beans, a traditional meal on special occasions in Japan.

Kimura said part of his secret to long life is eating meals in small portions.

Kimura was born on April 19, 1897 and worked at a post office for about 40 years before turning to farming after his retirement, continuing until the age of 90.

He has seven children, of whom five are still alive, 14 grandchildren, 25 great-grandchildren and 11 great-great-grandchildren.

Kimura, born in 1897, lives with the 82-year-old widow of his eldest son and the 58-year-old widow of a grandson. He eats three meals a day and is still able to walk with the help of a walker.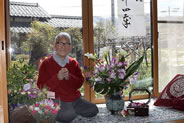 Photo: In this photo released by Kyotango City Office, Jirouemon Kimura reacts during his 114th birthday at his home in Kyotango, western Japan. Photo: AP Photo/Kyotango City Office (enlarge photo)

Kimura now spends most of the day in bed except when he eats three times a day, the city quoted Eiko Kimura, the wife of one of his grandchildren, as saying. He has a good appetite and is particularly fond of red bean cake and rice.

Asked about the secrets of his longevity, Kimura said: "It is my own interpretation. But maybe this is due to some unknown forces of nature."

Kimura was a postal worker in his younger days and he and his wife, who died many years ago, had seven children, five of whom survive.

Kimura's family has continued to grow over the years, and his own children and their offspring gave him 14 grandchildren, 25 great-grandchildren and 11 great-great-grandchildren.

The world's oldest person is a US woman, 114-year-old Besse Cooper. She was born on August 26, 1896.

Related world records:
Oldest Living Person : 114-years-old Besse Cooper

Oldest Father: 94-years-old Ramjit Raghav

Oldest Living Twins: Ena Pugh and Lily Millward

Oldest Living Twins: Raymonde Saumade and Lucienne Grare

Oldest Dad: Nanu Ram Jogi

Oldest living male conjoined twins: Donnie and Ronnie Galyon

Oldest Living Man: Henry Allingham

Oldest Woman: Maria Olivia da Silva

Oldest Mother: Omkari Panwar

Oldest person - Gertrude Baines

Oldest living man with Down syndrome: Bert Holbrook

Thursday, April 21, 2011