Wednesday, March 7, 2012

Biggest albino family: Indian Albino Family sets world record (Video)

DELHI, India--The ten members of the Pullan family, headed by Rosetauri, 50, and his wife Mani, 45, all have the extremely pale skin and near-white hair of albinos - setting the new world record for the Biggest albino family, according to World Record Academy: www.worldrecordacademy.com/.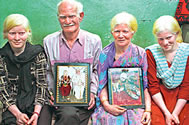 Photo: Rose Durai with his wife Mani and daughters Deepa (in black) and Pooja (in orange) at their house in Delhi. Photo: Jasjeet Plaha
(enlarge photo)

The Guinness world record for the Most albino siblings was set by a six-strong family who live in the U.S. and Canada.

Guinness World Records also recognized the world record for the largest albino plants, set by the albino coastal redwood trees (Sequoia sempervirens), presently numbering between 25 and 60 in total that exist in secret sites within four separate localities in California.

The Pullan's sons Shankar, 24, Vijay, 25 and Ramkishan, 19, and daughters Renu, 23, Deepa, 21 and Pooja, 18, inherited their albinism, according to The Sun.

Renu married a man who also had albinism, Rosheh, 27, and the couple's son Dharamraj, 2, also inherited the condition from his parents.

The family live in a one-bedroom flat in Delhi, and say many fellow Indians find it hard to believe they were born and bred in the country.

Roseturai Pullan told The Sun: 'I've heard people call us 'angrez', which means 'English'.

'All we know is that we can't see properly, and we can't sit under the sun for long, but we live the best we can.

'People in Delhi are a little more open-minded, but many think we're foreigners.'

Video: The World's Biggest Albino Family

Albinism affects around one in 17,000 people.

Those with the condition do not produce enough melanin pigment, which gives colour to the skin, hair and eyes and protects the body from the sun's rays.
Related world records:
Longest-living quadriplegic: Janet Barnes sets world record

Oldest living conjoined twins: George and Lori Schappell sets world record (Video)

Most fingers and toes: Akshat Saxena (Video)

Most children conceived through egg donation: Faith Haugh

Most living generations: Gladys Sweeting's family

Loudest duet: Tracy Hart and Claire Gibbons

Hairiest Girl: Thai girl Supatra Sasuphan

Most fingers and toes: Lei Yadi Min

Most kidney stones removed from a patient: Dr. Ashish Rawandale

Heaviest cancerous kidney ever removed: Eugene Tyner

Widest mouth: Francisco Domingo Joaquim

Most Tattooed Woman: Julia Gnuse
Most kidney stones produced and passed: Don Winfield
Youngest Living Mother: Chinese schoolgir
Most Fingers and Toes: Haramb Ashok Kumthekar
Most prolific surrogate mother: Carole Horlock
Fastest talking female: Fran Capo
Strongest Ear: Lasha Pataraia

Thursday, July 9, 2015 4:35 PM