Biggest bison killed-world record set by E.D.Riekens Jr.

[Sep 27] JACKSON, Wyo.,US--A bison known as "Old Lonesome" stands to break an 82-year-old record after a hunter killed it in western Wyoming's Bridger-Teton National Forest.E.D. Riekens Jr., of Cheyenne, shot the bison near Spread Creek on Sept. 18.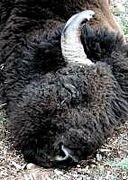 A bison shot in Bridger-Teton National Forest last week may break an 82-year-old record for the largest set of bison horns.
PHOTO COURTESY JOHNE FILBECK

Witnesses say the animal likely weighed around 2,400 pounds with a 27-inch spread, tip-to-tip, between his horns.

The bison's horns measured 32 inches from tip to tip and 18 and 19 inches individually, giving the animal a hunting score of 140-2/8. The previous record, a bison killed in Yellowstone National Park in 1925, scored 136-4/8. For the record to become official, the bison's head will need to dry for 60 days.

"When I saw this guy, it was like I was looking at a dinosaur or a mammoth," Riekens said. "This guy was just so different and massive and huge. There was no question about whether I would hold off. It just had to be done."

When the opportunity came, Riekens killed Old Lonesome with one bullet. "I was getting closer and closer waiting for an opportunity," he said. "Finally, he gave me the perfect chance, and I didn't hesitate for a second. He was dead before I let go of the trigger, which is a good thing."

Riekens said he killed Old Lonesome with one bullet. Riekens said he's got extra freezers ready to store the meat.

Johnie Filbeck, who works with hunters to help them transport their game, said he was familiar with Old Lonesome. He started calling the bison that name years ago, when he noticed that the bull almost always grazed apart from other buffalo.



"I've got a long list of friends and family I'm going to share it with," he said. "We're going to have a big old barbecue."

The Jackson Bison Herd has grown to around 1,200 animals, damaging plants in Grand Teton National Park and the National Elk Refuge and reducing natural forage for elk and moose.

Hunting began this year on the refuge, where managers ultimately hope to reduce the bison herd to 500.





Fastest single-turbine engine plane