Monday, February 7, 2011
Largest dodgeball game: University of Alberta sets new world record
EDMONTON, Alberta, Canada -- With a total of 2,012 participants, the University of Alberta struck back and regained the World Record for the largest dodgeball game — a record they originally set one year ago.
Photo: Participants throw balls as 2,012 students compete in the World's Largest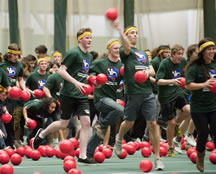 Dodgeball Game at the University of Alberta Universiade Pavilion, in Edmonton, Canada. All Photos: John Ulan / The Canadian Press via AP (enlarge photo)

"It's become a source of national pride," said Rory Tighe, U of A vice-president of student life. "I didn't think it would lead to international competition, but we want to show Americans what we Canadians can do."

The previous Guinness world record for the Largest Game of Dodgeball was set by the University of California, Irvine with 1,745 players.

Guinness World Records also recognized the longest marathon playing dodgeball: 31 hr 11 min 13 sec, world record set by the teams Hometown Dodgeball and Albany Dodgeball (both USA) at the Washington Avenue Armory in Albany, New York.

"I'm curious to see what some of the American universities do," said Rory. Tighe sees the event as more than just a simple game of dodgeball.
"It's more about the community spirit, it's just we haven't found anything else that people have responded this well too."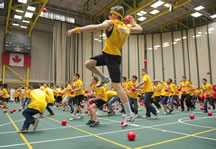 (enlarge photo)

When asked why the balls were brought in from Sweden, Tighe said they "have the perfect consistency. They're hard enough to generate lots of speed, but soft enough that they will not seriously hurt anyone."

Spectators included Mayor Stephen Mandel, President Indira Samarasekera, various members of the community, and U of A alumni. The game was preceded by a rendition of "O Canada" by Oilers' anthem singer Paul Lorieau.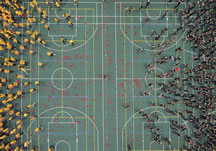 (enlarge photo)

After 44 minutes and 17 seconds, the Gold Team came out victorious and were able to outlast their green opponents and win for the second year in a row.

The U of A hopes the game remains an annual event, whether they're trying to set a new world record or not.

Guinness World Records also recognized the largest game of gaga ball, which consisted of 481 participants and was organized by Briarwood Day Camp in Furlong, Pennsylvania, USA. Gaga ball is a variation of dodgeball in which participants must hit (rather than throw) the ball and are only eliminated when struck by a ball below the knees.

Subscribe to our free RSS News feed to receive updates.

Related world records:
Longest Dodgeball Game: Toronto players

Largest Toy Pistol Fight - Washington University students

Most people patting their heads and rubbing their tummies - Calne students

Longest Curling Game - The Coaldale Granite Club

Fastest Time To Solve A Rubik's Cube - Feliks Zemdegs sets world record

Largest Game of Head, Shoulder, Knees and Toes - Bendigo students
Largest Mini Rugby Tournament - Hong Kong tournament

Largest Human Mattress Dominoes - Palantine Beds

Longest wiffle ball game - Prior Lake High School

Largest Tug Of War Tournament - Inner Mongolia

Longest tenpin bowling marathon - Stephen Shanabrook

Luckiest lottery winner - Joan Ginther

Longest outdoor inline hockey game - Indian players

Longest poker game - Phil Laak

Longest Bowling Run-up - Jason Rawson

Largest ' Ring a Roses' Game - Children Today

Largest Twister Board - UCD Suas Society

Longest keepy-uppy journey - Dan Magness

Most yo-yos spinning at the same time - Ben McPhee

Youngest poker champion - Joe Cada

Largest Human Mattress Dominoes - Juniata College

Largest board game - Luanga Nuwame

Longest game of tenpin bowls - Stuart Ridley

Largest free-floating soap bubble-Samsam Bubbleman

Largest Corn Maze - Benson Farms

Largest Human Mattress Dominoes - Bensons for Beds

Highest Land Wager Ever Completed - BetOnlinecom

Largest human wheelbarrow race - Temasek Polytechnic

Largest rock, paper, scissors tournament - Colonel By

Largest simultaneous four square game - Cartoon Network

Highest Score for a Single Song on Guitar Hero III - Danny Johnson

Largest crossword - Lvov

Longest frisbee throwing (for the over 55s) - Patricia Martin

Largest Online Poker Tournament - PokerStars

Most dominoes toppled by a group - Mr.Domino and team

Longest darts marathon - Jeff Garland and mates

Longest consecutive bounce - Michigan boys

Most People Playing Domino - World Domino Championship

Largest game of Head, Shoulder, Knees and Toes - Ladue students

Largest Domino tournament - Old Spice Domino Tournament

Most skips of a stone on water - Russel Byars

Longest stone throw - Ray Oster

Most Rugby Tackles in One Hour - Maidenhead Rugby Club

Most consecutive volleyball passes - Triangle Volleyball Club

Most simultaneous chess games played - Kiril Georgiev

Largest game of Head, Shoulder, Knees and Toes -Ladue students

Most People Playing Domino - World Domino Championship

Largest Domino tournament - Old Spice Domino Tournament

Longest croquet game - Adams players

Longest indoor hockey match - Havering Hockey Club

Monday, February 7, 2011