Tuesday, September 22, 2015

Longest lobster roll: P.E.I. Shellfish Festival breaks Guinness World Records record (VIDEO)

Charlottetown, Canada -- As part of the Prince Edward Island (P.E.I.) International Shellfish Festival in Charlottetown, chefs created a 23-metre long lobster roll loaded with 34 kilograms of lobster meat and 11 kilograms of mayonnaise, thus setting the new world record for the Longest lobster roll, according to the World Record Academy.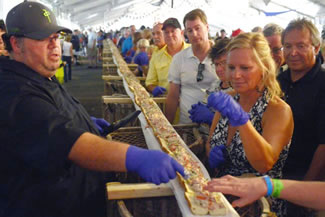 Photo: At 79-feet and one-inch long, the sandwich was big enough to earn the world record. Photo: Mitch MacDonald (enlarge photo)

The Guinness World Records' record for the largest crustacean sculpture measures 18.92 m x 12.81 m x 15.64 m (62 ft 0.88 in x 42 ft 0.33 in x 51 ft 3.75 in) and was achieved by Hubei ChinaLion Ecological Lobster City Co.,Ltd. (China) in Qianjiang, Hubei, China on 13 June 2015. The sculpture is in the shape of lobster which is the local delicacy.

Guinness World Records also recognized the world record for the longest spring roll; it measured 500 m (1,640 ft 5 in) and was made in an event organised by APOT.Asia (Australia), in Da Nang, Vietnam, on 5 June 2014.

Organizers had been aiming for a 30-metre roll but came up short when the bread dough was shaped.

Teams prepared and baked one continuous roll that was just under 23 metres long. The N.B. record is 22 metres.

In the end, it took 32 lobster fishermen to carry the roll to the main tent, plus a police escort. Volunteers were stationed at a table made of lobster traps, as they stuffed the roll with almost 57 kilograms of filling.

About 34 kilograms of lobster meat was mixed with 11 kilograms of mayonnaise and 11 kilograms of vegetables.

The sandwich was prepared by Charlottetown chef Ross Munro, Food Network Canada chef Lynn Crawford and Indiana chef Matt Nolot.

Related world records:
Largest lobster roll: world record set by Portland

Largest lentil stew: Uruguay breaks Guinness World Records record (VIDEO)

Longest spring roll: Vietnam breaks Guinness World Records world record

Longest Line of Tacos: Mexico breaks Guinness World Records record (VIDEO)

Largest Scotch Egg: Jon Fell breaks Guinness World Records' record


Largest mattress: Dolidol Maroc


Most people making heart-shaped hand gestures: Carrefour Belgium