New world record
Largest bowl of porridge-world record set by Mornflake Oats

Largest bowl of porridge-world record set by Tony Stone

[Sep 16] EDINBURGH, UK-- The biggest bowl of porridge ever made has been created in Edinburgh, breaking the world record for the largest bowl of porridge. Around 81kg (178lb) of oats breakfast was brought to the boil at Edinburgh Farmers' Market.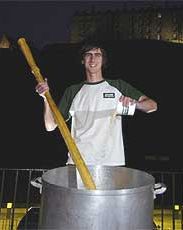 Cooks from Stoats Porridge Bars set the record by stirring the oats with a 6ft stick, known as a "spurtle".Tony Stone, from the company, said: "It is very exciting to get our porridge into the record books. "We have a stall at Edinburgh Farmers' Market every week so it's great to be able to mark our enthusiasm for the market in this way."

Tony said:"A portion is about 50 grams, so this could be around 2000 bowls. Not only will we have the largest bowl of porridge in the world, we'll also have the world's largest spurtle."

Tony, 27, of Colinton, has been running Stoat's Porridge Bars for two years. He says the traditional dish has seen a huge surge in popularity. His company operates two bars, one in the Meadows on weekdays, and another mobile one which he takes around the country. He has taken it to around 30 music festivals and other events this summer and is planning to compete in the World Porridge Making Championships in Carrbridge later this year.

Paul Godzik, an environmental health officer and Edinburgh city councillor, was on site to ratify the world record. "It's great that we have broken the record, everyone is delighted," Mr Godzik said.

The meal - sufficient to feed 2,000 people - smashed the previous record of 66.26kg, set at a farmers' market event in Warwickshire in January.

Ian Broadfoot, of Edinburgh City Centre Management, helped come up with the idea to promote healthy eating and Scottish Food Fortnight.

City centre manager Mr Broadfoot said they came up with the idea for the as a novel way of promoting Scottish produce and healthy eating.

He said: "While the World Record attempt is great fun for all involved, and I certainly include the schoolchildren who will be eating the record breaking results, it highlights the great Scottish fresh produce that this country produces, a vast selection of which is available every week at Edinburgh Farmers' Market."

The farmers' market is the largest in Scotland, with over 70 producers attending regularly. It has won several awards and was voted Britain's favourite farmers' market by readers of Country Life Magazine last year.

MAKE YOUR OWN BUMPER HELPING
Ingredients
25 kg organic jumbo rolled oats
25kg organic flaked oats
94 litres water
16 litres semi-skimmed milk
a good sprinkle of salt

Method
Put the water and milk on to boil. Once it has boiled, add the salt, followed by the porridge oats. Stir constantly to stop it burning. Porridge should traditionally be stirred clockwise, as stirring it anti-clockwise would invoke the Devil.



Media: BBC Video News on Youngest DJ


Longest stationary bike riding-George Hood


Fastest single-turbine engine plane


The Perfect Ten- Nadia Comaneci