NEW WORLD RECORD
Hottest chilli: The Trinidad Scorpion Butch T. sets world record (HD Video)

Saturday, February 26, 2011
Hottest Chili: Gerald Fowler's Naga Viper sets world record (Videos)
Cark-in-Cartmel, Cumbria, UK -- Mr Gerald Fowler from The Chilli Pepper Company in Cark has grown a Naga Viper (Capsicum Chinense) chilli rated at 1,382,118 Scoville Heat Units - setting the new world record for the Hottest chili.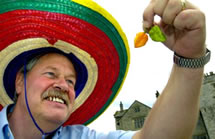 Photo: Gerald Fowler with his Naga Viper chilli pods, the hottest chilli pods in the world.
(enlarge photo)

Guinness World Records also confirmed that the hottest chili is the Naga Viper (capsicum chinense) British chilli farmer, Gerald Fowler of The Chilli Pepper Company, which has been rated at 1,382,118 Scoville Heat Units (SHU), according to tests conducted by the Warwick HRI Mineral Analysis Laboratory, UK.

The previous Guinness World Record for the hottest chili was set by the Bhut Jolokia pepper, 401.5 times hotter than Tabasco sauce.

Gerald Fowler developed the Naga Viper by cross-breeding three other very hot chili peppers. He used the Ghost Pepper (Bhut Joloika), Naga Morichi, and Trinidad Scorpion and grew the plants in his 8ft by 16ft heated greenhouse.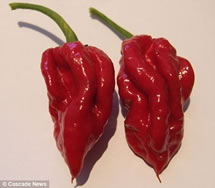 Photo: The Naga Viper rates an astonishing 1,359,000 on the Scoville scale, which measures heat by the presence of the chemical compound capsaicin.
(enlarge photo)

Gerald Fowler who runs a Chili Pepper Company out of Cumbria, England told Daily Mail that, "The Naga Viper's hot is enough to strip paint. It numbs your tongue, then burns all the way down... but it's a marvelous endorphin rush."

The Indian Government has been examining ways of using the very hottest chillis such as the Bhut Jolokia to produce a spice bomb that would completely incapacitate enemy soldiers without killing them.
Earlier this year they created an 81-mm tear-gas like grenade which could be thrown by a soldier.

Mr Fowler said:"Everyone in the chilli growing world are business acquaintances. There's bit of rivalry but nothing heavy, so it is satisfying to take it.

Mr Fowler has sold chilli seeds to the Eden Project in Cornwall, to the Edinburgh Horticultural Society, and to farmers in Afghanistan, as a alternative to growing poppies for opium.

Dozens of customers at Mr Fowler's village pub, the Engine Inn, signed a disclaimer stating they are of sound body and mind before sampling a curry cooked with Naga Viper. Only two managed to finish the whole dish.

"It has gone absolutely crazy as more chefs are talking about it, people are always looking for the fastest car and now the hottest chilli.

"It will make a big difference to the business now we have this. We're still reeling from getting it awarded. Against all the countries in the world, the UK is taking chilli growing by storm."




Related world records:
Hottest curry: Vivek Singh

Largest Zampone sausage: Castelnuovo Rangone Chefs

Largest matzo ball - Tucson Jewish Food Festival

Largest Sushi Mosaic-Norway

Largest enchilada - Mexico City

Largest sausage kolache - Kolache Haven

Most Chicken Fried Simultaneously - Tiberiu Kiss-Budai

Longest Shish Kebab - Murat Aksu

Largest Bowl of Macaroni And Cheese - Chef John Folse


Saturday, February 26, 2011